Dayron Robles has just begun training in Havana
Submitted by: admin

08 / 07 / 2008
---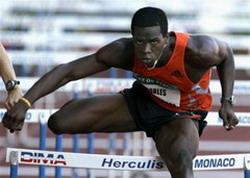 Dayron Robles, world record holder in the 110 meter hurdles, hurdler Anay Tejeda and their coach, Santiago Antúnez, have just begun training in Havana for the upcoming Beijing 2008 Olympic Games.
The news is a surprise; although the return from Europe to Havana before the flight to the Olympic venue was in their plans."I'm feeling good. I continue working, and seeing my family is something really stimulating from the psychological point of view," said 21-year-old Dayron.
His great rival, Chinese Liu Xiang, won the gold medal in Athens precisely at the age of 21. Now, four years later, slim Dayron does not rule out the possibility of achieving a similar result in Beijing.
"Winning in my first Olympic competition is a real possibility. I'm working to achieve the best results, which means to achieve victory. I always try to be in the finals; then, anything could happen," he added.
Dayron said that he has a "really good" friendship with the rest of his team. "We have had undreamed satisfactions, but the best is still to come," he stated smiling.
He said that he completely shares the medical opinion that states that he has still many abilities to exploit and gave an eloquent example.
"When I established the world record, I was taken a picture beside the scoreboard that marked the 12.87 seconds. The last number was covered by my hand; it was not intentional, but that picture can tell many things, I only know that I can do it."
Dayron said that the reaction time at the starting line has never been a concern that keeps him awake. "The most important is to do it hard and with strength because the rest is done along the way."
He said that the near competition demands lots of work to reach perfection and that he expects that everything will go well.
The Cuban athlete described himself as both a sprinter and a technical runner over the hurdles. "I defined myself as a man that attacks the obstacles and loves to reach the greatest speed possible."
Coach Santiago Antúnez was not surprised by the results achieved neither by Anay Tejeda when she beat the national record established twelve years ago in the 100 meter hurdles, nor by Dayron Robles when he established a new world record in Ostrava.
"They both have gone through medical and psychological tests and physiotherapy. That's why, good results are expected," said Antúnez.
In 2007 and 2008, we have seen how Dayron Robles has achieved excellent results during more than six months. Are we before a highly-gifted person?
Antúnez was very precise and said "The criteria involving athletic training has changed a lot. We train for each specific competition. For instance, when Dayron runs to reach a time of 13.35 seconds, he does not make any additional effort because he used 92 or 94 percent of his capacity."
He added that this way Dayron is not exposed to high intensities and they can look at the run from the technical point of view from different angles. Therefore, the matter is not to train for long periods of time to meet a single objective.
Antúnez expressed admiration for the maturity and experience reached by his student who this year has defeated all top level hurdlers but Chinese Liu Xiang, completely devoted to train and train.
"Training is not all. There are human aspects that must be taken into account and I'm convinced that this short return to his country and the possibility to meet his family will help to strengthen Dayron's performance in Beijing," his coach said.
(Juventud Rebelde)  
---
Related News
---