Joint script by Fernando Pérez and Luis Alberto García
Submitted by: admin

08 / 07 / 2008
---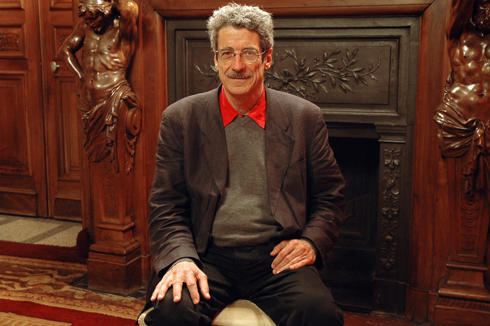 The proposal was made by the filmmaker, García, the star of "Clandestinos" (1986) and "La vida es silbar" (1998), first and fourth films by Pérez, respectively, told the Cuban TV. For the actor, the future joint project will be the opportunity to once again make films, but outside the set. In 2007, García, one of the best of his generation, premiered as director with the documentary "Leal al tiempo," homage to Havana's historian Eusebio Leal. He had acted in over 30 films in Cuba, Latin America, and Europe since 1986, when filmmaker Juan Carlos Tabío, the co-director of "Fresa y Chocolate," gave him his first cinematographic role in Dolly Back.
That documentary, premiered in the last International Latin American Film Festival, was what finally convinced him to deal with production and acting at the same time. The script Fernando has asked him to write together does not only give García the opportunity to once again be a producer, but also to join whom critics consider one of the best Cuban filmmakers alive. "There are people who emit light, like firefliers. Fernando is one of those persons," said García, who was also in the cast of "Madrigal" (2007), Fernando's latest film.
They will begin working in the script once the director of "Suite Habana" (2003) finishes his seven full-length film, dealing with Cuban National Hero José Martí, and to begin shooting in August. Written by him, the film will be included in the series Liberators, a project the Spanish TV proposed to several regional filmmakers to take the life of pro-independence advocates in Latin America to the small screen.
"I always say the film I am making is the most difficult, but this time it is true, because every Cuban has his own Martí," Fernando admitted. He has spent six months making innumerable castings only to find the young man who will play Martí in his adolescence. But he announced the actor and locations have been selected already. "We are going to shoot in Guanabacoa, Old Havana and Matanzas". It was in Guanabacoa, one of Havana's 15 municipalities, where Fernando was born in 1943, and lived until he married.
Like in all his previous works, music and soundtrack will be by Cuban Edesio Alejandro, who in 2003 won his first Coral Prize of the Havana Festival for the soundtrack of Suite Habana. "I have always bet on Edesio for his sensitivity and talent," the director said.
Fernando Pérez's relation with the Cuban Institute of Cinematographic Art and Industry (ICAIC) dates back to 1961 when, at the age of 15, he went to an office looking for a job. But it was not until 1963 that he was given his first task as assistant producer in the Czech-Cuban film "Para quién baila La Habana." Years later, he became one of the producers of the ICAIC News, directed by documentary maker Santiago Álvarez.
For Fernando, Álvarez and Tomás Gutiérrez Alea, with whom he worked as third assistant director in "Una pelea cubana con los demonios en 1970," have been essential in his preparation as filmmaker. Thirty years later, in 2007, Fernando Pérez became the seventh personality of the Cuban film world awarded the National Film Prize.
(www.cubanow.net)     
---
Related News
---