Retired Cuban Teachers Ready to Head Back to the Classrooms
Submitted by: admin

08 / 06 / 2008
---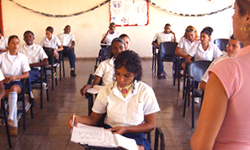 Adriana Mediaceja Abreu retired in 2006 and in the 2007-2008 academic year came back to teaching at the Orlando Pantoja Primary School, where her presence was needed.
Her years of experience allow her to appreciate the conditions with which others like her will have to cope. She resentfully appreciates formal education and other basic norms of respect, which must be located in the right place. "Before, the teacher was seen as a person to be respected, some even said that we were their second parents," she said.
"Now, some students have no interest in learning, and some parents do not care enough. If you scold a student, the family comes to complain and they can even present the case to the officials at the school. Then, it's the teacher who's the one that gets scolded.
"There is a need to analyze the amount of activities that minimize teaching. As there are seven subjects, teachers have little time to prepare the lessons. I think there must be some flexibility with retired teachers because we have already met our time inside the classroom. Our work can be to help young teachers, who need more training."
However, all these obstacles have not daunted her. "Next September I will continue working because I need the money and I will assume the school's rules responsibly, just like last academic year."
Analysis of a proposal
There are many variants that can be analyzed from the proposal made to retired teachers to come back to work because as we know every person "is a world."
The Cuban Teachers Association (APC) supports the initiative. JR talked to its main executives and other members, who said they support the return of retired teachers because they think is "a brilliant idea given that all human activity needs renewal and experience."
APC President Nidia González Rodríguez pointed out that the association is calling on its members —many of them already retired— to return to the classrooms.
"Our generation has been called on many times. First, it was the insurrectional struggle and then the literacy campaign, and later volunteering and serving as mountain teachers. This is a new, and we are going to respond, there's no doubt. Each person will give as much support as they can."
Dr. Miriam Lanne González said that this is a positive idea from all points of view. "First, given the self-esteem of the teacher, who retired with a low salary and began to do something else, or nothing, and lost their communicative abilities. In addition, it means social recognition to a sector that has given lots to the Revolution, and it is also a great help, economically speaking.
"The concept has been accepted, but we need to be very careful with practice. The school that receives one of these teachers has to know that they are retired people; they are not young and cannot maintain the rhythm of work and activity of a young person.
"This needs to be taken into account because concepts can be distorted when it comes to action and interpretation.
"Something very import needs to be taken into account, retired teachers are not trained to teach six subjects. Young teachers are trained for that, but the retiree who comes back cannot. Although I would like to, I could not teach history.
Miriam also thinks that the proposal to call in retired teachers from higher education can be analyzed.
"I think that there are university teachers who would like to teach in schools near their houses. In higher education, those who have good curriculum generally continue working as consultant teachers with an adjustment in the work plan and an adequate work load, and some do not do it because they live far from the university."
Alicia Santana Díaz, who was a teacher at the Enrique José Varona Pedagogical Higher Institute for more than 30 years, said that she got close to her grandson's teacher and helped in the school, without any remuneration.
"I could help the young teacher, the family; I could help from the methodological point of view; that's what I always did."
Zoraya Alfaro López said that next September she will be assigned to a school closer to her house. "I always taught Spanish and I would like to help in that. I cannot teach nine subjects because I never taught science. The success of this idea lies in its implementation. It's a wonderful idea."
Last academic year, the directive board of the Cuban Teachers Association proposed to organize a movement to improve teaching, particularly in secondary school, where new changes demand a lot from teachers.
Among the ideas proposed are the carrying out of periodic meetings, the publication of papers, joint work in research, and the analysis of teaching challenges by commissions. The APC is a non-governmental organization, founded in 1989, which has 33,000 members. Its main objective is to serve teachers, or anyone who is involved in education.
(Juventud Rebelde)  
---
Related News
---