Chucho Valdés and Michel Legrand at the Byblos Festival
Submitted by: admin

08 / 05 / 2008
---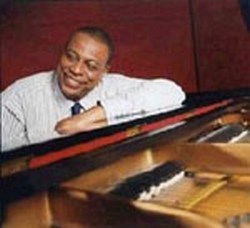 The extraordinary Cuban piano player Chucho Valdés gave a unique performance accompanied by his quintet to the delight of thousand of spectators who attended the show as part of the Byblos Festival, which is about to end in next August until next year, in the open scene of the ancient Phoenician port of the city of Byblos, and having as a background the ruins of seventeen civilization that succeeded each other in that crossroads land that is Lebanon
The characteristic flavor Cubans give to the Latin jazz was tasted by those attending, who applauded and acclaimed the extraordinary Maestro, acknowledged worldwide as one of the best jazz piano players in the world, and also the performances of his fellow team members Lázaro Rivero, in the double bass; Yaroldys Abreu in the Cuban percussion and drummer Juan Carlos Rojas.
Mayra Caridad Valdés got the public's applauses with her vocal jazz sonorities; the public danced on their seats with the performance of a song written by Maestro Chucho, "La fiesta de San José", to which he dedicated all of his zeal and strength.
After an hour of concert, Chucho Valdés introduced "the best musician in the world" according to him ?the French composer Michel Legrand, who delighted the public ears with quite a few of his romantic compositions and in which these two great stars of the piano excelled in a face to face the spectators applauded, particularly when they played "The Umbrellas of Cherbourg" in different tones and tempos from polka to, to tango, to the Cuban son.
It was an unforgettable night and for many it the best performance in this year's Byblos Festival in which three years ago the great Cuban diva Omara Portuondo also gave a performance, leaving a feeling of love and admiration for the Cuban music behind her that today Chucho Valdés and his quintet raised to undreamed-of heights.
(EmbaCuba Líbano)     
---
Related News
---