Famous Cuban piano player Chucho Valdes Presents the album "Canto a Dios" (Song to God) in Madrid
Submitted by: admin

07 / 25 / 2008
---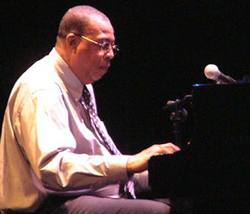 In that album, the Cuban musician fused symphony with jazz, African rhythms, and his own songs like Nanu, with which he won one of his five Grammy Awards, and Claudia, a song he recorded in 1979 with the group Irakere.
For the Spanish specialized critics, the new versions of those two works appear in the CD in a more intimate, mystic and tragic way.
It is a sound that arises from fusing the symphony music's magnificence with the intensity of jazz improvised scales, a style born from the Afro American slaves' nostalgia in the New Orleans of the 19th century, according to an opinion published in Madrid.
In his statements in this city, Valdes described Hurricane Katrina as a monster, a phenomenon that left more than 2,000 dead and missing people, and he explained that after that tragedy, he wanted to sing to its victims.
"It is a request, a prayer for peace to God, so that other natural disasters like Katrina do not occur," he pointed out.
When recalling the place of the tragedy, the Cuban piano virtuoso, considered one of the best in the world, highlighted similarities between New Orleans and Cuba, especially "a very well-known common musical root that has to do with France and Africa".
He also recalled that Haiti was a French colony and sent emigrants to Cuba, who brought contredanse rhythm, while New Orleans was also a possession of France and assimilated that musical style, which gave birth to danzon and Cuban "habanera" rhythms and to ragtime in the US city.
The presentation of the CD coincides with that of a DVD entitled "Live," with a concert given by the musician on January 28, 2005 at the Amadeo Roldan theatre in Havana, where he preferred to play Cuban popular music with enriched versions of pieces like "Besame Mucho" and "Dias de Noviembre."
"Chucho" will begin in October, together with his father Bebo Valdes, another piano virtuoso, a tour of Madrid, Barcelona and San Sebastian to promote a CD that they recorded together, entitled "Por Primera Vez" (For the First Time).
(PL)
---
Related News
---