In a Centennial of the Birth of José Lezama Lima: A New Cuban Film "El viajero inmóvil"
Submitted by: admin

06 / 27 / 2008
---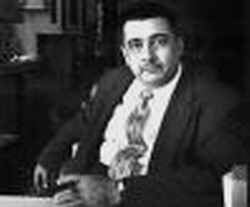 Based on the important novel Paradiso, by Lezama, Piard has created a significantly surrealistic movie, using resources typical of theater, highly charged with poetry and "mixing testimony and fiction" as he himself admitted during a news conference held at ICAIC's Fresa y Chocolate Cultural Center.
With regard to El viajero… he highlighted that the most important things for him, after reading the book seven times, was "to make this movie so as to break away from the myth that Paradiso was an inaccessible, difficult and inscrutable novel" and to make it possible for the public, especially young people, to access it. He said that the film would be incomplete if those who have not read the aforementioned book by Lezama or gone into it in depth couldn't access those pages.
Piard admitted that it was a challenge to face up to this work, which does not intend to emulate Lezama's poetic art, but calls on the attention of the public so they resort to the novel."
While making reference to the cast (the artistic direction was by José Manuel Villa), he assured that it was a great honor to be able to count on leading actors who were willing to interpret roles that appeared in only one or two shots. "The work with the cast was one of the most beautiful experiences I've ever had as a director, since I had the pleasure of meeting actors I had never directed. Great actors that I respect and admire played small parts, and new actors played leading roles," he stressed with satisfaction.
The film, with an excellent sound track (music by Juan Pilera, designed by Raúl García), had Miriam Dueñas in charge of the wardrobe, while the exquisite photography was under the direction of José Manuel Riera.
With regard to the latter, Riera commented how effective the work with lights was "very creative, in which Piard and I looked for textures, colors and shades, to make a movie that was contrasting enough from warm to cold shades, from the softer ones to the most aggressive."
El viajero inmóvil, the story of a contemporary young man that interviews Lezama and, as the dialogue advances delves into the world of Paradiso, which exerts enormous influence on him until turning him into a fable teller of the world of images.
The cast is made up by Eslinda Núñez, Roberto Gacio, Jorge Martínez, Fernando Hechavarría, Georbis Martínez, Carlos Solar, Sergio Fernández, Sergio Buitrago, Lavinia Castro, Herminia Sánchez, Jorge Alí, Mariana Valdés, Miguel Montesco and Julio Quesada. The presence in the film of prestigious Cuban writers, among them Pablo Armando Fernández, César López, Reynaldo González and José Luis Moreno del Toro contribute a seal typical of the genre of testimony.
ICAIC's program of activities to pay tribute to Lezama on the centennial of his birth also includes a pilgrimage to his tomb in Havana's Colón Cemetery; a mass officiated by Monsignor Carlos Manuel de Céspedes at San Agustín Church; the inauguration of a photo exhibition by Orlando Luis Pardo and of clothes used by the main characters of El viajero in the foyer of the Charles Chaplin Theater; and the screening of Imagen y Palabra, directed by Aitana Alberti, at the Villena Hall of the Cuban Association of Writers and Artists.
(www.granma.co.cu)     
---
Related News
---