President Mahmoud Ahmadinejad meeting with Cuban Cabinet Minister Ricardo Cabrisas.
Submitted by: admin

06 / 17 / 2008
---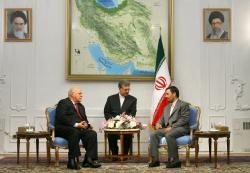 President Mahmoud Ahmadinejad here on Monday said the enemies are being annihilated and the victory and development are within reach.
He made the remark in a meeting with Cuban Cabinet Minister and chairman of Iran-Cuba Joint Commission, Ricardo Cabrisas.
Terming Iran-Cuba relations as stable, profound and strengthened, he said Tehran welcomes expansion of all-out cooperation with Havana.
The Iranian president said the two countries share identical views regarding many international developments adding, such views pave the way for further boost in bilateral ties between the two nations.
President Ahmadinejad expressed his satisfaction with the growing trend of Tehran-Havana economic relations.
Iran and Cuba have always supported each other on the international scene, he added.
For his part, Cabrisas stressed that his country has always defended the stands and rights of the Iranian government and nation and considers itself as Iran's ally in its fight against imperialism.
Expressing his satisfaction with bilateral political cooperation, he called for further boost in economic ties.
He also called for promotion of Iran-Cuba-Venezuela trilateral economic cooperation.
(IRNA)             
---
Related News
---