General Vicar of the city of Havana evoked Saturday the respect felt by deceased Pope John Paul II by the Che Guevara
Submitted by: admin

06 / 08 / 2008
---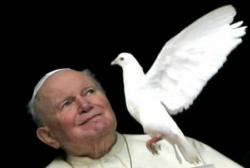 The text reflected in the website
www.che80.co.cu
said Cespedes Garcia-Menocal, also a member of the Cuban Language Academy remembered Pope John Paul II was questioned about Che Guevara in one of his trips to Africa.
"It was a time for decolonizing feeling growth, and if the topic was mentioned, it was almost inevitable to talk about Cuba and Che Guevara in any way.
The question to the Pope was direct: "Your Holiness, what is your opinion about Che Guevara?"
Cespedes Garcia said the Pope was thinking for a few seconds, and then he answered: "I don't know him deeply, but I know he worried about poor people in the world. Consequently, he deserves my respect."
The 80th anniversary of the birth of Che Guevara will be celebrated on June 14, and a great number of Latin American intellectuals and artists send messages to the website dedicated to his memory.
(PL)
---
Related News
---