Farewell to another legend of Cuban Cinema: Jorge Haydú
Submitted by: admin

05 / 18 / 2008
---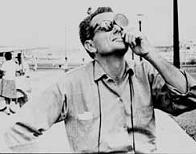 Haydú was born in Yugoslavia, to Hungarian parents, in 1921. Two years later he moved to Cuba, where, at 13, he began to work in his father's photographic studio. He showed a knack for cinema at a very tender age, and went on to joining the nascent cinematic movement of the time in the island. Haydú was a special artist in Cuban cinema prior to 1959, the year when Cuban Film Institute (ICAIC, in Spanish) was created.
His talent stood out soon as the cinematographer for some of the best accomplishments of national cinema, like Julio García Espinosa's Las aventuras de Juan Quin quin (the Adventures of Juan Quin Quin), in 1967, and Oscar Valdés's Vida y Muerte en el Morrillo (Death and life at el Morrillo), in 1971. But even long before, in 1958, he was already making history, with his participation in the shooting of El Mégano, that ground-breaking short by García Espinosa, with the collaboration by Alfredo Guevara, Tomás Gutiérrez Alea and Jose Massip, all founders of ICAIC.
The first decade of the new Institute of the Cinema - the 60s- had a fundamental figure in Haydú: he was the still photographer for Gutiérrez Alea's Historias de la Revolución (Stories of the Revolution), the first full-length feature of ICAIC's early years. He would eventually direct the cinematography of many films to come, among them De Tal Pedro tal astilla (Like father, like son) Vals de La Habana (Old Havana's waltz), by Luis Felipe Bernaza, Realengo 18, by Oscar Torres, Escenas de Carnaval (Carnival Scenes) and Canción de Rachel (Rachel's Song), by Oscar Valdés, Minerva traduce el mar (Minerva translates the sea), by Humberto Solás and Oscar Valdés, Papeles son papeles (Papers are papers), by Fausto Canel, Cosmorama, by Enrique Pineda Barnet, De noche (At night), by Pastor Vega, Súlkary, by Melchor Casals, and Son de Almendra (The Almond Tune), by Santiago Villafuerte. A founder of the now iconic Latin American ICAIC Newsreel, Jorge Haydú was also the cinematographer for some thirty documentaries.
(
www.cubanow.net
)
---
Related News
---