Committee on Food and Agriculture as the "apple of the National Assemblys eye" in Cuba
Submitted by: admin

05 / 15 / 2008
---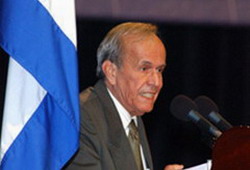 He described the Committee on Food and Agriculture as the "apple of the National Assemblys eye." This fourth auxiliary committee, which has a provisional character, will begin to work immediately.
Formed by 30 MPs, the committee is one of the three that will be created from the former committee on productivity to address food production, a high priority for the government.
Addressing the members of the committee, Alarcón said that they have to channel the collective effort that is indispensable to produce better and more this year on. "The committee has to monitor, supervise, control and channel the will of the people, their institutions and research centers and that of people with experience and results in this field to break through the walls that we have to face."
In his speech, the president of the Cuban Parliament also referred to the moment in which this committee is established - not only from the national point of view, characterized by the strengthening of socialism, but also and especially from the international one, "where people are already talking about food schizophrenia because of the serious, alarming and worrying shortage of food, as well as the high and increasing prices."
He said this is a global problem, which interests us all, making food security the fist of all of our priorities.
In addition to this, there are the difficulties and limitations that Cuba has to face due to its being a tropical country, which include the raising temperatures, drought, effects of climate change and meteorological events - factors that affect agriculture.
He also mentioned the impact of the economic blockade imposed by the US government against Cuba for more than four decades as an important factor.
The Committee on Food and Agriculture will be in session until May 14. Leonardo Martínez, was proposes as president; Nicolás Echevarría, vice president, and Emilio Interián, secretary. They, along with the committee itself and its members, will be presented for approval in the first ordinary session of the Parliament.
(
www.cmhw.cu
)
---
Related News
---