A Committee on youth, childhood and womens equality issues was constituted by Cuban Parliament
Submitted by: admin

05 / 11 / 2008
---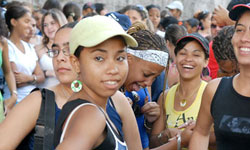 Alarcon announced the 34 MPs who will form this parliamentary working group and asked them to reinforce values defended by the Revolution and civic education in the new generation of Cubans, stressing the importance this new Committee will have in the future development of the country.
He noted that the Committee features more female parliament members than the total number of female representatives in parliament during the pseudo-republic that existed before the 1959 revolution and applauded the increasingly important role played by women in the economic, politic and social life of the country over the last five decades.
Alarcon said that this will be the first time this working group will meet without the leadership of Vilma Espín and called on the MPs to act according to her example and spirit.
The legislative committee will study, analyze, monitor and oversee essential aspects related to child and youth education, and the promotion of women and family values. Elsa Roja Hernández was named president; Miriam Yanet González, vice president; and Ibis Juanes Caballero, secretary.
National Assembly Representative Juan Auspurúa briefed the 34 MPs on the Committees functioning and spoke of the importance of maintaining close links with the public. The group were also given the results of the government initiative called La familia cubana y los valores que defendemos (The Cuban family and the values we defend) and on Saturday they will be updated on women labor issues and projects undertaken by the countrys social workers.
(
www.juventudrebelde.co.cu
)
---
Related News
---