New CD-DVD of film about of the legendary Cuban musician: Benny Moré
Submitted by: admin

05 / 10 / 2008
---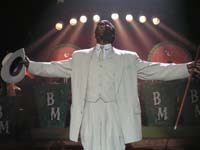 Lets start from the following assumption: each Cuban has its own version and vision of Benny Moré. This popular legend has been created after the image and likeness of each of us, based on the information we have received during these 45 years after his death.
Benny is one of the few Cuban musical geniuses that hasnt go out of fashion. Any attempt to approach his personality entails going through the memory of those who knew him very well: composers, musicians, friends and relatives who are still alive and whose perception of the man and the myth lingers on. On the other side we have the interpretations, whether entirely free or not, of his legacy, his personality and his anecdotes.
People have talked about it so much, that the truth has been distorted and enriched, making the line between reality and imagination even thinner. Having considered all these premises, we should do justice to this CD/DVD that BIS Music and Capitol Entertainment have presented from this different standpoint, because the Cuban Institute of Cinematographic Art and Industry made ¨its own¨ edition of the films soundtrack.
Juan Manuel Ceruto was in charge of musically recreating the necessary environments of this film. He made the arrangements for the films soundtrack, with the exception of a few songs whose copyrights were assigned to the cinematographic producers.
Ceruto has had a successful career in Cuban music. He started as an instrumentalist for the band Opus 13, then he became the musical director of La Elite - the band that used to accompany Paulo F. G. in his concerts -, until he finally began his career as a music producer. This film is his debut for the big screen and hes been given the tough job of recreating the arrangements made in the past for the Benny Moré's Big Band by renowned musicians like Ernesto Duarte, Generoso Jiménez, Bebo Valdés and so many others.
(
www.cubanow.net
)
---
Related News
---