Tomás Terry Theatre in central Cienfuegos, Cuba: National Preservation Prize 2008
Submitted by: admin

04 / 29 / 2008
---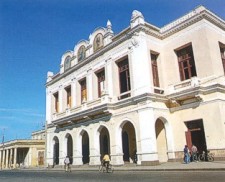 The national preservation prize was granted to the Tomás Terry theatre for its usefulness and cultural values, from its location in front of the former parade ground -todays José Martí Park" to its eclectic, elegant style.
Since its official opening in 1889, prominent Cuban and world figures have performed there, among them musicians, singers, actresses and actors.
A national monument directly linked to the development of theatre and culture in general in Cienfuegos, the Tomás Terry theatre is also an important architectural work with thick brick walls and the main concert hall's false plaster-roof and crossbeams with allegorical figures that represent dawn, laughter and crying and also feature pictures of Cuban poet Gertrudis Gómez de Avellaneda and musician Gaspar de Villate, as well as several other floral motifs.
The theatre has a horseshoe-shaped hall and at the entrance there is a Carrara marble statute of Tomás Terry, the work of Italian sculptor Tomasso Solari. The mural paintings on the walls and ceilings are the work of Philippine-Spanish artist Camilo Salaya Toro.
There, visitors will also find allegorical images of the muse of music and the masks that represent tragedy and comedy, which point to the influence of Byzantine art.
The theatre's construction began on December 19th, 1887. The building was later refurbished in 1965 and ever since, numerous works have been undertaken to preserve the theatre as a site of great historical and cultural value.
(
www.radiorebelde.com.cu
)
---
Related News
---