Icon of Cuban Popular Music: Pedrito Calvo
Submitted by: admin

04 / 25 / 2008
---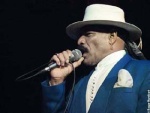 Pedrito Calvo was busy last week celebrating the release of his latest production, the CD and DVD 50 Years, recorded on the EGREM label. Calvo has marked his career with an authenticity and creativity nurtured by his search for the roots of his island and has helped keep the Cuban son and bolero genre alive: "My life is singing, and I have had the good fortune to share my life with my country."
During the album release, Pedrito Calvo looked back at his career that started in 1957 when, at an early age, he joined the band La Corte Suprema del Arte, followed by a stint with la Ritmo Oriental and Quelo Revé. On April 16, 1961, Calvo, dressed in military attire, raised his gun at the corner of 23 y 12 in Havana together with Fidel Castro in support of the countrys socialist proclamation and then sang a duet with Jacqueline Bell of Gonzalo Roigs classic Quiéreme mucho.
Upon presenting Peditro Calvos latest disc, Cuban journalist Pedro de la Hoz said: "He is a charismatic man, for his honest cheerfulness, his genuine artistic delivery and his coherence between image and social role. To these qualities must be added his faithfulness to the roots of Cuban music and his sense of belonging to a tradition to which he has given a creative continuity."
(
www.granma.co.cu
)
---
Related News
---