"I also learned a lot with Elpidio Valdes," said Juan Padróon, Cubans creator
Submitted by: admin

03 / 27 / 2008
---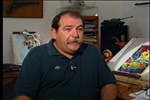 Of all characters in Cuban animated films, the most famous is Elpidio Valdés, a 19th century mambí fighter against the Spanish colonial rule. His adventures and his friends are very popular throughout the island, so much so that children know his phrases by heart and imitate him in their games.
"As I was preparing to draw Elpidios cartoon story I had to investigate everything. From the ranks of the Mambí Army (rebels of Cubas independence wars) to the uniforms of the Spanish "rayadillos" soldiers looked like. I knew by heart the Blackhawks and Superman tunes, but I didnt know how to represent, in detail, a military charge with machetes (the weapon mainly used by the mambises). Thats why I say that I was both the father and the son of Elpidio Valdés," said Padrón.
The official ceremony to grant the 2008 Cinema Award was set for Monday evening at Havanas Charles Chaplin Theater. The well deserved prize honored the artist, who told Granma newspaper that beyond the personal recognition what makes him happiest is "how my friends and colleagues have welcomed the award."
Padrón was born in the countryside, in central Matanzas province, 61 years ago. When they were children, both he and his brother Ernesto were always fascinated by cartoons and animated images. Ernesto is a well-known artist currently involved in a project along with singer-songwriter Silvio Rodríguez to do a screen adaptation of Meñique, a story by Cubas National Hero José Martí.
"The first strokes of Elpidio were those of a Japanese warrior, a samurai. But, in the 1970s, he was definitively born as a mambí of the 1895 war. If we measure its international scope, beyond those festivals and weeks of film screenings after which he ends up by winning the hearts of the audience, the country where the character triumphed was Cuba. However, it is my saga of "Vampires in Havana" that enjoys a lot of success abroad, and I even know of places where they had a cult following."
"But Im very much satisfied with Elpidio still being a mambí," he stated without a shadow of a doubt. "I never thought that his character was going to be like those of Asterix in France or Monica in Brazil, by Mauricio de Sousa, which have even managed to replace Walt Disneys characters."
From the times in which he drew for the weekly Mella, at the beginning of the 1960s, he recalls his friendship with Silvio Rodríguez. "When Elpidio was adapted for cinema, I asked him, as a friend, to compose a theme for the film. And he responded to my request. A decade later, I asked him for a shorter version, and Im still waiting for it," he said with a broad smile.
Four years ago Padrón drifted away from cinema, but not for good. He will soon undertake new projects: "It was, like people say, a sabbatical that multiplied by four, because I felt like writing adventures stories and I realized how difficult it was. I have in my pocket a new feature film with Elpidio Valdes, but I will do a short first, to warm up my arm. And Im also working on an animated film on the October Crisis, along with young talents from the new studios of the Cuban Film Institute. They, luckily, have the energy of our Elpidio, something I need, since as days go by Im more tired than Resoplez (a Spanish officer in his Elpidio Valdés saga)," joked the filmmaker.
Something he hasnt done and would like to do? Padrón responds: "Theres a character I would like to take up again: Celedonio, a child who helped the rebels in the Sierra Maestra Mountains in the 1950s. Perhaps one day I will draw him again. I feel like doing it."
(
www.granma.co.cu
)
---
Related News
---