2.5 million Cubans are espected to Terry Fox run
Submitted by: admin

03 / 09 / 2008
---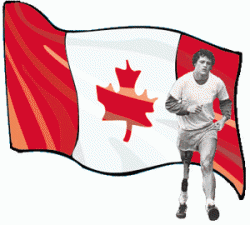 "No one would say 'cancer' and that was part of the problem," says Dr. Rolando Camacho, speaking from Havana.
For the last decade, Cuban health educators have been working to dispel the secrecy and shame about cancer.
At the same time, Terry Fox - the Canadian hero who boldly showed the world the effects of cancer (he wore an artificial leg) and how one could fully live with cancer - played a pivotal role in turning Cuban thinking around.
Next Saturday, in the 10th Terry Fox Run for cancer research, 2.5 million Cubans are espected to walk, run, ride, rollerblade - do whatever they can - remembering a young Canadian who has become a hero in their own country.
Camacho, who heads Cuba's National Oncology Group, says Terry's message echoes the objectives of the island nation's national health program: "If you don't accept cancer as a common disease you will not fight against it."
He's watched as participants swelled from about 800 in 1998 to 2.3 million in 2007, becoming the world's largest outside of Canada.
The Terry Fox Run was introduced to Cuba in the 1980s by staff at the Canadian embassy in Havana but it took a few years to capture the public's imagination.
Cubans learned more about Terry through documentary films, and over the years embraced his philosophy.
The start of the run, which is organized by the National Institute for Sport, Physical Education and Recreation of Cuba (INDER) and other national ministries, is announced on national radio. It has a festive feel to it. People dash out of their doorways and join in as it passes their homes.
"We almost don't have to call people to come," says Camacho. "It is something you go to because your heart is involved. It's very close to our way of thinking about what people should do for a cause they believe in. The personality of Terry Fox impressed a lot of Cubans." Terry lost his right leg to bone cancer when he was 18. In the summer of 1980, believing that cancer research saved his life, he wanted to give something back. He started his Marathon of Hope, and thousands of Canadians - moved by his lopsided gait, his grit and the sweat in every step - lined the streets and highways to cheer him on. When cancer returned, he tearfully ended his run. He died in 1981.
"Doing something without self-interest - for the good of others - that really strikes a chord here," says Simon Cridland, counsellor with the Canadian Embassy in Havana.
"They are fascinated by it. You travel across Cuba and ask, `Do you know anything about Canada?' They'll say, `It's cold'. If you ask, 'Have you heard of Terry Fox?' they know he ran across Canada to raise money for cancer. You'll be in a little town or village and they will have heard about him because they had a run there."
Terry's youth also resonates with the Cuban people. Revolutionary leaders like Fidel Castro and Che Guevara were young men still in their 20s when they began their struggle to overthrow Cuba's leadership.
"He (Terry) was very young and that was very important for us," Camacho says. "It is young people who convince the rest. That is a hero and for the Cubans, he became a hero."
Breeda McClew, international director for the Terry Fox Foundation, says the Cuban runs remind her of that heart-stopping Canadian summer 27 years ago.
"The way the inspiration of Terry Fox pulls the Cuban people together reminds me of 1980, when he pulled our country together for a desperate and necessary cause. It's such a credit to the memory of Terry Fox that 27 years later he has the same impact on a country far removed from his own."
Every dollar raised in Cuba stays in Cuba, where it is to be used to fund research. Over the years, 8 million Cubans have raised some $140,000, a considerable sum in a country where the average monthly wage is $17.
Two Terry Fox-funded research projects recently completed in Cuba include a study on genetic factors in breast cancer, including a registry of families with a history of the cancer; another project looked at HPV cells in cervical cancer.
Cancer is the second leading cause of death among Cubans under 75; the cancer mortality rate is growing at about two per cent a year.
While the Terry Fox Run takes place in Canada during September, runs are held throughout the year in other countries - because of weather or religious or national holidays. Some 660,000 Canadians visit Cuba each year.
The ministry of tourism is encouraging Canadian visitors at resorts like Varadero, Cayo Coco and Guardalavaca to join in the runs.
Cridland describes the Havana run as highly emotional.
"You have people in wheelchairs, people who have survived cancer, people with prostheses. It's not just another run. At the end of the race you see people lining up to donate money."
The embassy official believes a secondary effect is a change in attitude to people with disabilities. Barriers, he says, are tumbling down.
"It has inspired disabled people like you would never believe. People say, `I was always ashamed of being an amputee, but if Terry Fox can do it, I can too. Anything is possible. I used to cover my prosthesis and now I run in shorts so people can see.' "
(
www.thestar.com
)
---
Related News
---