The same Orquesta Reve salsa band that has been around for more than half a century
Submitted by: admin

02 / 08 / 2008
---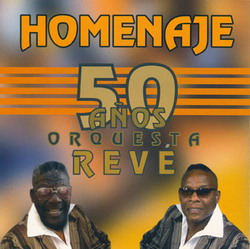 The album release concert was at La Tropical, the salsa empire, where old Papá Elegguá Elio Revé has triumphed so many times with his Charangón.
The super-concert featured musicians from Revés old guard: Raúl Martínez, on the güiro, one of the founding figures of the 1980s explosion;Arnaldo Jiménez Villafranca, bass; and Francisco "El Pichy" Hernández Valdés, a stellar voice from 1994 for the songs "Papá Elegguá" and "El helado." There was a special guest appearance by the timba giant, Roberto "Robertón" Hernández, of Los Van Van, in a great improvisation.
The concert reminded us of the good times of the salsa boom and Cuban timba in the 1990s. The chorus sang: "Tell the Cuban people that Im here/ now is the time/ for the party to start/. Everybody outside, into the street/ when you hear the Charangón." The paila (drums), Revé-style, with the "hand-to-hand" fan touch, the fat cowbell keeping the beat, the guiro marking time, and the tres giving it that traditional touch. Their voices are aggressive, "changüisera" and high-pitched, the way they should be.
When looking back at the Revés history, some people cant be left out, like Juan Formell (1967-1969), Manolito Coipel (1969-1984) and Juan Carlos Alfonso (1984-1988). Voices like "El Indio" (Juan Miguel Díaz Zayas), who popularized the song "Mi salsa tiene sandunga;" Héctor Baloy, William Rafael Padrino, Valentín Larrondo, Ricardo Alfonso from Bejucal, El Pychy, Moisés Valle (Yumurí) and now Eric,Lázaro, with the lead voice of Dagoberto.
Revé, along with Juan Carlos Alfonso and his Dan Den, were the bands from the prelude of the salsa boom, until the arrival of José Luis Cortes and NG La Banda, who got it going. I remember that at the time, I was traveling all over Cuba with the tours of Revé and Dan Den. Cuban dance music began taking off, in a rebirth, with an aggressive approach and resistant to the invasion of the "canned" Latin salsa, as Dominican singer Víctor Víctor calls it.
The Charangón has been a school for the Cuban way of performing, and for making the rhythm and the beat come together with the clave; that was how Arsenio Rodríguez did it in his time. That is where Juan Formell got his mechanics, from Cesar Pedroso (Pupy), from Juan Carlos Alfonso: "We all ate at that table," says Juan Carlos Alfonso. "That was the initiation for all of us who came with the formal technique from school, which is something else. Whats Cuban is Cuban, and the Revé knows very well where the secret is."
The Charangón continues to be heard, traditional and renewed, in tune with the times, with its dominating piano, and the essential, distinctive touch of the Revé drums.
(
www.granma.cu
)
---
Related News
---