Cuba Aims to Preserves an Attractive and Ecologically Functional Dunes in the Jardines del Rey
Submitted by: admin

01 / 26 / 2008
---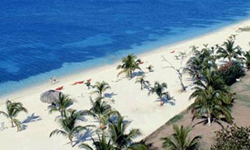 Dunes of the Jardines del Rey archipelago, considered among the largest in Cuba and the Caribbean region, are in good condition according to the latest monitoring reports.
Engineer Adán Zúñiga, director of the Research Center of the Costal Ecosystem of Cayo Coco (CIEC), said studies reveal that these sand elevations are maintaining their physical parameters and vegetation levels, with the mounds possessing plants that are endemic to the area.
"Dunes are the natural reservoirs of beaches; when the shores loose sand, due to sea flooding or strong winds, they recover the losses from these elevations," said the specialist.
The function of dunes is essential in the conservation of beaches because they are formed by loose elements and placed in the meeting point of very dynamic elements such as the air, the earth and water, which make them more fragile.
Therefore, the Cuban government approved law-ranking decree 212, which limits the actions of human beings and controls investment activities that can be carried out in the vicinities of these natural systems formed at the borders of seas, lakes and deserts.
In the case of Jardines del Rey, an archipelago in Cuba's north coast, monitoring and control tasks are necessary because this is one of the island's main tourist areas, with some 3,600 rooms distributed between 12 hotels.
Actions to preserve the natural values of these hills compelled the CIEC specialists to propose the Loma del Puerto dune, in Cayo Coco, to be a protected area, since it is considered a great reservoir of sand with ample indigenous vegetation.
(
www.juventudrebelde.co.cu
)
---
Related News
---