Commander defends Guantanamo, Cuba
Submitted by: admin

01 / 23 / 2008
---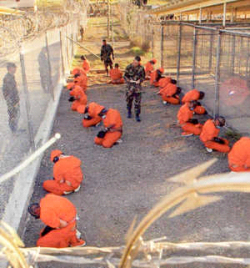 In an interview on Tuesday, Navy Rear Admiral Mark H Buzby said he is confident most Americans do not want the roughly 275 detainees held at the US base in Cuba transferred to American prisons.
"A lot of people may say, 'Let's close Guantanamo,' but the reality is no one wants them in their backyard," Buzby said.
President George W Bush and Defence Secretary Robert Gates have publicly supported closing Guantanamo, which opened soon after the September 11 2001, terrorist attacks.
Earlier this month, Admiral Mike Mullen, chairperson of the Joint Chiefs of Staff, said he also would like to see the military prison shut down because negative publicity about the treatment of terrorism suspects has damaged America's image worldwide.
Still, Buzby said he has received no orders to prepare to close Guantanamo. While the Pentagon has already given him a new assignment for when he steps down as the military prison's commander in May, it has also named his successor - Rear Admiral David M Thomas.
"There will be a lot of talk and a lot of rhetoric, I predict, about Guantanamo and its future," Buzby said. "But when it comes down to brass tacks, I think the facility fulfils its purpose very well."
Guantanamo has been criticised for detaining men with suspected ties to al-Qaeda and the Taliban as "enemy combatants" without the same rights as traditional prisoners of war.
Many have been held for years without formal charges being brought against them.
Buzby predicted that will change sometime this year, as a new courthouse and legal complex opens at Guantanamo this spring to hold the military's war crimes tribunals.
"I know they are preparing about 100 cases," Buzby said.
He also predicted the Guantanamo prison will further decrease its population by 40 to 50 detainees this year after making arrangements to return them to secure facilities in their home countries.
(
www.News24.com
)
---
Related News
---