An exposition made up of drawings by a member of the «Cuban Five,»
Submitted by: admin

01 / 11 / 2008
---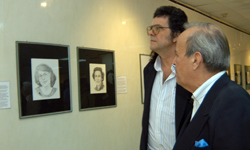 An exposition entitled Portraits of Cuban Female Patriots, made up of drawings by a member of the «Cuban Five,» opened Wednesday at the International Press Center in Havana.
They are drawings by Antonio Guerrero, one of the five Cuban anti-terrorist fighters unfairly imprisoned in the United States.
Organized by the Federation of Cuban Women (FMC), the exposition pays tribute to the 50th anniversary of the triumph of the Revolution.
Alarcón said that throughout history, Cuban women have fought against the forces of colonialism and imperialism. They faced discrimination and prejudices of an under-developed society that subjected them to exploitation and subordination.
He added that the Cuban Five "Antonio, Gerardo, Ramón, Fernando and René" have been able to show the world patriotism and human values with which they were raised.
Regarding the battle to free the Cuban Five, Alarcón said that this "their tenth year in prison" will be a year of much struggle to achieve justice. «The battle wont be easy, but the minimum we cant do is to give everything we can be victorious,» he said.
In honor of women who defend just causes, Alarcón referred to the group of US woman anti-war activists who have announced that they will go to Miami this weekend to demand the arrest of Luis Posada Carriles by authorities.
The exhibition, on display at the International Press Center in Havana, includes portraits of Vilma, Celia, Haydée, Melba, Leonor Pérez, Mariana Grajales, Amalia Simoni, Ana Betancourt, Lidia Doce, Clodomira Acosta and Fe del Valle.
Antonio Guerrero wrote in a letter that «I feel satisfied being able to pay this tribute to our women from here. They are everything, beauty, self-sac.
(
www.juventudrebelde.co.cu
)
---
Related News
---