Contemporary Havana silversmith
Submitted by: admin

12 / 31 / 2007
---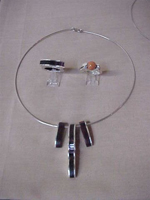 With the purpose of preserving the material and cultural patrimony of the silverware in our city, the Silversmith Museum collect pieces that were part of the spiritual and material life of the people from Havana and promote the work of contemporary silversmith. Among these proposals is the Congregación de Plateros de San Eloy, a union revitalized in 1997 by the Office of the Historian of the City. The Congregación de Plateros de San Eloy is based in the museum.
The Congregación celebrates the San Eloy day at the end of every year with the Contemporary Havana Silversmith, made by an exquisite selection of jewellery pieces created by the members of this union. The exhibition can be seen from the 24 of December and it is part of the actions made by the Museum and by the union to perpetuate the tradition.
The Congregación is an adviser in the study of the silversmith collections and is also in charge of restoring the objects belonging to the Office of the Historian. The San Eloy silversmith have created present for important cultural, political and religious personalities, among them can be found the cross and medal give to Pope Joan Paul II during his visit to Cuba.
The members of this union exhibit their work twice a year at the Silversmith Museum , located in Obispo street number 113 in a building linked to the silversmith tradition. A story tells that in 1707 lived in that building the silversmith Gregorio Tabares, who worked there. It seems the building knew during the XVIII century the secrets of the Tabares brothers, owners of that property.
(
www.habanaradio.cu
)
---
Related News
---