Olga the next 24 hr as a ridge over the western caribean.
Submitted by: admin

12 / 12 / 2007
---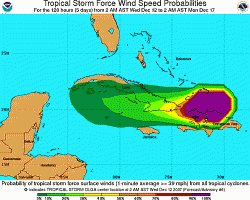 THE DYNAMICAL MODELS AGREE THAT THE UPPER-LEVEL LOW/TROUGH THAT HAS SO FAR PROTECTED OLGA FROM SHEAR WILL WEAKEN DURING THE NEXT 24 HR AS A RIDGE BUILDS OVER THE WESTERN CARIBBEAN.
THIS SHOULD CAUSE STRONG NORTHWESTERLY VERTICAL WIND SHEAR TO DEVELOP OVER THE SYSTEM. THE INTENSITY FORECAST IS THUS UNCHANGED FROM THE PREVIOUS ADVISORY...CALLING FOR OLGA TO WEAKEN TO A DEPRESSION IN 24 HR AND TO A REMNANT LOW IN 36 HR.

IT SHOULD BE NOTED THAT THE GFDL AND HWRF FORECAST OLGA TO MOVE INTO AN AREA OF LIGHTER WIND SHEAR IN THE GULF OF HONDURAS...AND IN CONSEQUENCE BOTH MODELS FORECAST IT TO BECOME A HURRICANE.
IT SHOULD ALSO BE NOTED THAT THE SHEAR IS FORECAST TO BE VERY STRONG OVER THE GULF OF MEXICO...SO THE CHANCES OF OLGA BEING A SIGNIFICANT TROPICAL CYCLONE IN THAT AREA APPEAR RATHER LOW AT THE MOMENT.

A TROPICAL STORM WARNING REMAINS IN EFFECT ALONG THE NORTHERN COAST OF HISPANIOLA FROM CABO ENGANO IN THE DOMINICAN REPUBLIC TO LE MOLE ST. NICHOLAS HAITI. A TROPICAL STORM WATCH REMAINS IN EFFECT FOR THE SOUTHERN COAST OF THE DOMINICAN REPUBLIC FROM CABO ENGANO TO PUNTA PALENQUE. THESE WARNINGS AND WATCHES WILL LIKELY BE DISCONTINUED LATER TODAY.

A TROPICAL STORM WARNING REMAINS IN EFFECT FOR THE SOUTHEASTERN BAHAMAS AND THE TURKS AND CAICOS ISLANDS.

INTERESTS IN JAMAICA AND THE CAYMAN ISLANDS SHOULD MONITOR THE PROGRESS OF OLGA.

FOR STORM INFORMATION SPECIFIC TO YOUR AREA...INCLUDING POSSIBLE INLAND WATCHES AND WARNINGS...PLEASE MONITOR PRODUCTS ISSUED
BY YOUR LOCAL WEATHER OFFICE.

AT 800 AM AST...1200Z...THE CENTER OF TROPICAL STORM OLGA WAS LOCATED NEAR LATITUDE 19.3 NORTH...LONGITUDE 73.8 WEST OR ABOUT 65
MILES...105 KM...SOUTH-SOUTHEAST OF THE EASTERN TIP OF CUBA...AND ABOUT 110 MILES...175 KM...WEST-NORTHWEST OF PORT AU PRINCE HAITI.

OLGA IS MOVING TOWARD THE WEST NEAR 19 MPH...31 KM/HR...AND THIS MOTION IS EXPECTED TO CONTINUE FOR THE NEXT 24 HOURS. THIS MOTION
SHOULD BRING THE CENTER OF OLGA NEAR THE SOUTHERN COAST OF EASTERN CUBA TODAY.

MAXIMUM SUSTAINED WINDS HAVE DECREASED TO NEAR 45 MPH...70 KM/HR... WITH HIGHER GUSTS. SATELLITE IMAGERY INDICATES THAT OLGA HAS
BECOME DISORGANIZED...AND FURTHER WEAKENING IS FORECAST DURING THE NEXT 24 HOURS. OLGA COULD WEAKEN TO A TROPICAL DEPRESSION LATER TODAY.

TROPICAL STORM FORCE WINDS EXTEND OUTWARD UP TO 260 MILES...415 KM OVER WATER TO THE NORTH AND EAST OF THE CENTER. TURKS ISLAND
RECENTLY REPORTED SUSTAINED WINDS OF 38 MPH...61 KM/HR.

ESTIMATED MINIMUM CENTRAL PRESSURE IS 1007 MB...29.74 INCHES.

OLGA IS EXPECTED TO PRODUCE ADDITIONAL RAIN ACCUMULATIONS OF 1 TO 2 INCHES OVER PUERTO RICO AND THE SOUTHEASTERN BAHAMAS...WITH ISOLATED MAXIMUM STORM TOTAL AMOUNTS OF 12 INCHES OVER PUERTO RICO. RAINFALL AMOUNTS OF 4 TO 6 INCHES ARE POSSIBLE OVER HISPANIOLA WITH POSSIBLE ISOLATED MAXIMUM TOTALS OF 10 INCHES. THESE RAINS ARE EXPECTED TO PRODUCE LIFE-THREATENING FLASH FLOODS AND MUDSLIDES IN PUERTO RICO AND HISPANIOLA. RAINFALL AMOUNTS OF 2 TO 4 INCHES ARE POSSIBLE OVER EASTERN CUBA WITH POSSIBLE ISOLATED MAXIMUM TOTALS OF 10 INCHES.

National Hurricane Center.

---
Related News
---