Leo Brouwer Awarded Pablo Neruda Order
Submitted by: admin

12 / 05 / 2007
---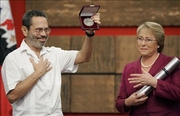 Cuban composer, guitar player, and orchestra conductor Leo Brouwer received the Pablo Neruda Order for Artistic and Cultural Excellence awarded by the Chilean government.
In a ceremony that took place in the La Moneda Palace (seat of government), Chilean President Michelle Bachelet conferred Maestro Brouwer with the highest decoration granted by that South American nation in recognition of artistic and intellectual work.
Brouwer, who was visibly moved, said that he saw this homage as the culminating point of the parabola of his life, outlined by the great masters of the past and the present, having Cuban national hero Jose Martí in the core of creation.
When presenting the rationale behind this decoration, Chilean Minister of Culture Paulina Urrutia said that the author of La espiral eterna (The eternal spiral) and Canción de gesta (Chanson de geste) was one of the greatest contemporary artists of the Americas, "the most important living guitar composer in the world," she added.
President Bachelet also spoke in praise of Brouwer, saying that she felt profound respect and admiration for his work and for other Cuban artists as well, such as Cuba's national poet Nicolás Guillén. Referring to Brouwer, she highlighted his ability to grasp and summarize the cultural mixture of our peoples and express it in the difficult adventure of creation.
Michelle Bachelet presented Brouwer with the order accompanied by outstanding Chilean composer and orchestra conductor Fernando García.
The ceremony was attended by members of her office, the Cuban ambassador to Chile Giraldo Mazola, numerous representatives of the local artistic community and Silvio Rodríguez, the famous Cuban guitar player who was Brouwer's student in the 1970's.
(
www.granma.co.cu
)
---
Related News
---