High rank cuban communist evaluate damages by rains in Las Tunas
Submitted by: admin

11 / 03 / 2007
---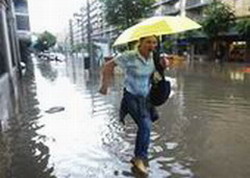 José Ramón Machado Ventura, member of the Political Bureau of the Communist Party of Cuba, asserted in the eastern province of Las Tunas that the country will make a supreme effort to solve the setbacks, caused by the tropical storm Noel.

When evaluating the damages caused by the meteorological phenomenon in this territory, about 670 kilometers to the east from Havana, Machado Ventura also clarified that due to the dimension of the effects of the intense rains all the problems cannot be solved immediately.

According to the the political leader the damages caused in the eastern provincies and Camagüey were of big magnitude and he meant that the precipitations of the last five days also rebounded in the territories that had a similar events some weeks ago.

A wire from Cuban News Agency points out that the cadre urged to prioritize the tasks, to use the local resources with rationality and to look for alternative in each situation.

Jorge Sierra, minister of the transport in Cuba, also traveled part of the province to know the affectations. He considered that the deterioration of the highways and roads requires of a deep evaluation, for the resources that are needed to reestablish them.

Among the most significant affectations stand out the loss of seeds and agricultural products, the floods in the sugar cane fields and of several cultivations, as well as the damage to some one thousand housings, figure that can increase, since several communities are still isolated by land.

In spite of the heavy rains and the damages, in Las Tunas there are not losses of human lives, thanks to the groups of preventive evacuation, salvage commands and other activists.

Due to the precipitations 20 of those 23 existent dams are alleviating the quantity of stored water in the territory.
Source: Tiempo21
---
Related News
---