Tropical Storm Noel death toll rises in Caribbean countries
Submitted by: admin

11 / 01 / 2007
---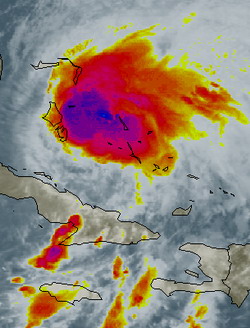 Deadly Tropical Storm Noel barreled toward the Bahamas Thursday and could strengthen into a full-blown hurricane following its rampage through the Caribbean where it killed at least 90 people.
The worst affected by Noel's wrath was the Dominican Republic, where 56 people were confirmed dead and dozens more were reported missing.
In Haiti, which shares the island of Hispaniola with the Dominican Republic, the death toll reached 34, officials said on Thursday. A further 14 people were listed as missing, and almost 2,000 homes were damaged.
In Cuba, 24,000 people evacuated their homes as the storm damaged homes and farmland.
The Bahamas, meanwhile, braced for a direct hit by Noel, which forecasters said could gain strength as it churns toward the islands. The northwestern part of the Atlantic archipelago was placed under a hurricane watch.
Residents boarded up their homes and stocked up on basic goods, as schools shut down and Bahamasair grounded its flights.
Forecasters warned Noel could dump as much as 38 centimeters (15 inches) of rain on the islands.
Even after the storm left the Caribbean basin for the Atlantic Ocean, the three countries slammed by Noel earlier in the week remained on high alert.
"Rains in Hispaniola and Cuba are expected to cause life-threatening flash floods and mudslides," said forecaster James Franklin of the Miami-based National Hurricane Center (NHC.)
Noel's rip through the Caribbean came at a time when dams were already full, rivers bloated and the soil saturated from weeks of rain.
In the Dominican Republic, floods forced people to climb onto their roofs or perch on trees in affected areas. In one Santo Domingo neighborhood entire houses disappeared under the flood waters.
"The situation is still dangerous and the number of deaths could rise," said Luis Luna Palino, who heads the country's National Emergencies Center.
"Rescuing people is becoming difficult because the rains are continuing," he told local radio on Wednesday, adding that floods had cut off 39 communities in the south of the country.
More than one-third of the country's population was without electricity, officials said.
In Haiti, the fatalities included a 14-year-old girl and her mother killed when an uprooted tree crushed their house in the capital, while several homes were swept away by floods.
In Cuba, almost 1,300 homes were damaged. Some interior areas remain incommunicado due to flooded roads, and coffee crops were damaged by flooding.
Noel on Thursday morning packed maximum sustained winds of 95 kilometers (60 miles) per hour, with higher gusts, the NHC said, adding that some strengthening was possible in the course of the day.
At 1500 GMT, the center of the storm was located 70 kilometers (45 miles) southwest of Nassau, Bahamas and 280 kilometers (175 miles) east-southeast of Miami.
Source: AFP
---
Related News
---