A party for Violeta Parra
Submitted by: admin

11 / 01 / 2007
---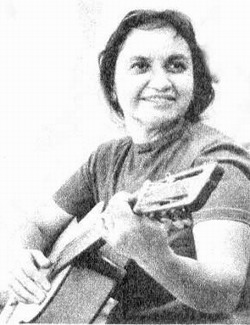 With a party in Santiago de Chile in the club "peña" style that Violeta Parra promoted in the 1960s, Chileans will be celebrating the 90th birthday of the singer who retrieved, recreated and spread their nation's music folklore.
One of the guests at the party who will join the 50,000 people at the capital's O'Higgins Park on November 24th, will be troubadour Silvio Rodríguez who will be sharing the stage with member's of Violeta's family.
"At a press conference in Spain he spontaneously offered to come and sing, and his presence will be extremely welcome by the family", commented Javiera Parra, musician and researcher and one of Violeta's many descendants.
In Madrid, where he was presenting a CD with a compilation of 37 songs by Noel Nicola, Rodríguez sent a message to Chileans with the promise that he would sing to the memory of the "immortal" Violeta Parra. He also said that he would give a free concert at the beginning of December in Talca, nine months after having to cancel a concert there in response to complaints by residents of the cost of tickets.
The leader of the group Javiera y Los Imposibles announced that there will be many other musicians attending the O'Higgins Park celebration:
"It's going to be very beautiful, open to the people under a marquee in the spirit that Violet had always espoused wherever she sang."
Chilean groups such as Inti Illimani Histórico, Congreso and Los Tres will also be giving homage to their compatriot and friend who Pablo Neruda called "A white clay saint" in a eulogy he dedicated to her in 1970. Three years before, the singer, composer, sculptor and artisan had put a bullet into her heart at the age of 50.
Born in San Carlos, Chillan, in Southern Chile on October 4, 1917, and a guitar student from the age of 9 years old, Violeta used her voice to placate the anguish of her intense life. "I have sincere wonderful and tempestuous friends, but singing is my first friend", she sang.
At the age of 15 Violeta left her birth town and, along with some of her nine brothers and sisters, moved to Santiago de Chile where she entered teacher training college. However, she still sang and began to perform in bars, neighborhood halls and anywhere they would open the doors to her.
In the first half of the 1950s her children Isabel and Angel were born who were later to become her collaborators. She began to travel throughout the country to record Chilean popular music.
"Ando de arriba p'abajo/desentierrando folklor./No sabís cuánto dolor,/miseria y padecimiento/ me dan los versos qu'encuentro" (I went from north to south / unearthing folklore / You have no idea how much pain / misery and suffering / I encountered in their verses) she confessed in one of her pieces.
She returned with some 3,000 songs, many of which she created in some 18 albums the greatest part of her music. Violeta Parra is thus recognized as the savior of Chilean folklore and leader of the new song movement in her country, as socially committed as were her daughter Isabel and the assassinated Victor Jara. It was not in Chile but in Paris, France, that she found compensation for her years of rescuing Chilean popular song. It was there that she recorded her first disks and returned in 1961 to live with her children for three years. She had just travelled through Finland, the USSR, Italy and Germany.
In 1965 she returned to Chile and founded with her children and other family members, the "Peña de los Parra" or "The Parra Club" in her house on Calle Carmen #340.
She had two other daughters from a second marriage, Luisa Carmen and Rosita Clara, but lost the younger and never recovered from her grief. Years later she wrote that she spent nights in mourning: "It appeared that she was alive / and more so when I was asleep / she returns in my memories"
In 1991 her family and figures from Chile's cultural community created the Violeta Parra Foundation to ensure the conservation of her folklore work for Chile and the world. Her old house at Calle Carmen is the foundation's center where, in the words of Silvio Rodríguez "this exemplary family has collected the best of popular song and passes it down from hand to hand."
Source Cubarte
---
Related News
---