Story of a transparent man
Submitted by: admin

10 / 29 / 2007
---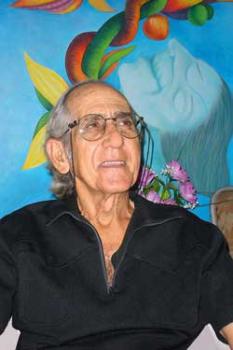 Those who have seen Juan Garcia Milo walking calm by the streets of this city may think he is like a tired goblin. But this man is too real to be a goblin and the magic that colors his talent is only his.
Natural, sincere, coherent and transparent. Talking openly with him, without time barriers, is a privilege I was looking forward to for a long time.
Considered as one of the most important fine arts creators of the province and the country, he has been awarded several times in contests and festivals, is a member of the National Association of Cuban Writers and Artists UNEAC and his works are exhibited in personal collections in Germany, Spain, France and United States.

How was the first step of this long career?
"I liked to paint like every child; I was seduced by that world of graphics and painting. Around five or six years old I discovered the comics and the designs of the cigar boxes. Hence I began to make my own comics; that was my first approach to fine arts.
"In 1961 I began to study at the art school of Pinar del Rio, and after I graduated there, continued my studies at the National Art School.
"I left the province with my conception of landscapes and portraits and in Havana I met with those artistic tendencies full of expressive and dramatic strength that impressed me a lot".
But you return to Pinar...
"Ive always felt more comfortable in Pinar del Rio. It gives me some kind of serenity to create... Contradictions? I have faced the same contradictions I would have found in any other place.

"From this city I have achieved a closer reality of daily life problems and culture, which have been a motivation for the work Ive been doing ever since".
Do you have any favorite style or tendency?
"Ive always used neo-expressionism with surrealist elements (although is hard to define concepts nowadays), but always with a solid thought in every work.
"Motivated by anecdotes, personal experiences, or other works, I use the human drama as a common element, since the closest context to the apparently more distant one".

How did you start in mural painting?
"There are several projects through which a part of my work has flown. Such is the case of Farbfiber (color fever), a German association of artists and professionals from different sectors of the society who are interested in mural painting as public art to treat social problems inside and outside their country.
"With Farbfiber I left my conception of easel painting for the dimension of the wall, for the public work of collective creation; which first requires a research on the topic we want to reflect, then the team discussion about the way to do it and at last the art solution.
"To make a mural is necessary to integrate profession and soul, to establish real and open communication with the rest of the participants and beat that ego artists have, in order to achieve unity in the work, without giving up the personal style".
You also work as a teacher with the young talents of painting in the province
"Ive been teaching for 35 years. Ive taught at the Medical Faculty, at the Art Vocational School and now at the Professional School of Fine Arts of Pinar del Rio.

"I always remind the young people they have to study not only the technique to do the work, but the theory and the concepts; they also have to look in the inside, to get to know themselves better and develop the necessary talent to get into reality; that is the only way to achieve an everlasting work".
After 40 years painting, is there anything you would like to change?
"I dont lament any of my works, if I were to change anything it would be in the cultural institutions, they should give more promotion to the work of the artists.
"In my case I just want to continue to develop my professional work and to participate in social debates.
"There are many things I havent done yet. I have a gallery of dead people inside... a subjective gallery...since the most traditional manifestations. They are there, I know they exist, I dont know if they will come out one day..."

Source: By Anyce Figueroa, Guerrillero

---
Related News
---