"Bird Guide", Cuban birds and their relationship with wetlands
Submitted by: admin

10 / 26 / 2007
---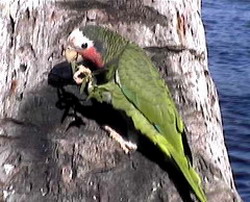 Another achievement of the studies of Professor Mugica and her group was the publication of the book "Water birds in Cuban wetlands". A compilation of papers about the different Cuban wetlands, from coastal areas to freshwater habitats. The text includes natural wetlands and those which have been modified by men, such as rice fields, proving that this crop has played an essential role pain the preservation of Cuban water birds, as they spend part of their life cycle in the rice field and bordering wetlands; and both of them are necessary for their long-term survival.

Both publications show a complete and structured analysis on different aspects of the ecology of Cuban bird communities in different types of wetlands. Up to now there is not precedent of similar books in Cuba, tackling a group of birds in depth

Among other ecological aspects, the book deals with those related to the patterns of distribution and dynamics, reproduction, feeding, use of the habitat, as well as morphometric and behaviour studies. In addition, the book sets out the role and the impact of the birds which frequent wetlands modified by men, such as rice fields and aquaculture areas.

Wetland benefits and use

At present, wetlands are some of the most productive ecosystems of the planet and they offer important financial and social gains. Men use many of its resources for their consumption or industrialization, such as water, wood, plants, fishes, crustaceans, birds and forage species.

The sustainable use of wetlands resources is being gradually introduced in many places. At present, there is an increasing number of initiatives design to prove that it is a functional concept that, when properly applied, redounds to tangible social and financial gains and reduces the extinction pace of natural ecosystems and the associated loss of biodiversity and valuable environmental goods and services.

Cuban wetlands

Cuba, where wetlands take up an area of about 10,410 km2, a 9.3 % of the country area, is not devoid of such sustainable and rational use which facilitates the use of this natural resource in such a way as the extraction pace does not overcome the reproduction or recruiting pace. The objective is to guarantee its survival in the long term, as well as the continuity of many activities of biological and socio-financial importance in the area.

Among the diversity of Cuban wetlands fauna, birds stand out with 186 species. This was the main reason that motivated Dr Mugica to study Cuban wetlands, the role of rice fields as feeding places and their importance both during winter migration and in the birds' breeding stage. She has also analysed the importance of natural wetlands as places for hibernation and reproduction as well as their relevance for the survival of threatened species such as Yaguasa and White Puffin.

Cuban wetlands and their fauna are one of the most important natural resources of the country due to their ecological and conservationist importance, as they sustain a very high biodiversity in comparison with other ecosystems.

Nevertheless, they need an inspired gaze and a protective hand to survive. It is necessary to sumarse join Dr Mugica and the other writers of the book "Water birds in Cuban wetlands: "nature inspires, heals, comforts, strengthen and prepares the man for virtue. The only way to make it last is to respect and serve it".
Source: By Antonio Martin Ruiz, Innovations Report
---
Related News
---