Meditations and extreme situations of a painter: Darián González Castañeda
Submitted by: admin

10 / 24 / 2007
---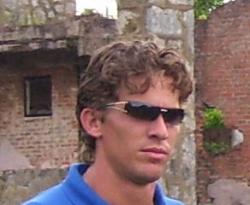 Darián González Castañeda is a 25-year-old young architect, devoted to plastic arts, who has found a very personal style with a marked expressionist influence to lead us into the complex world of feelings and meditations of human beings.
Through pieces of varied formats, Darián González makes his own journey to the inside of an individual, to his concerns and needs. 'Transfigurations is the name of his most recent exhibition presented in May at the Arts Gallery of the Avellaneda Hall in the National Theater of the Cuban capital and it shows the different emotional states of an individual in different everyday situations that are expressed in different titles such as 'Añoranza (Yearning) and 'La Espera (The Wait).
Darián González, an architect by profession, confesses that he has always been interested in the psyche of human beings. Their interests, desires, temptations, and the way to react to diverse subjects and extreme situations feed his paintbrush. When we carefully look at his pieces we could say that we are seeing the work of a psychologist that can paint. Some are oil paintings, some others are drawings but the truth is that his lines are a sort of geometric drawing expressing his own search, his own style.
For his works, he uses canvas, card or wood. The use of colors is well defined in the general context of his pieces. His preference for the gray, dun and brown tones allows him to highlight certain situations as in 'Inmolación (Sacrifice) and 'Supersticiones (Superstitions). In the case of drawings, most of his works combine his expression with achromatic tonalities over black and gray ranges, created by combining water-downed ink and oil paint, also using a nib to stress the outline of the shapes that formed the piece.
As in other authors, the female figure is almost a constant in the plastic work of Darián González. In his case, the image of the woman is highlighted, particularly that of the Latin American woman; the situations and conflicts that she has to undergo such as pregnancy, maternity and loneliness, a situation that has become so common to so many women of our time. The attentive faces of his figures and their weary appearance reveal his explorations and also his artistic interests, concerns that are human rather than aesthetic.
Darián González Castañeda currently teaches at the Faculty of Architecture of Havana. His work has received many awards in several festivals and a First Prize to the best exhibition of the 3rd May Salon in 2006.
Source: CubaNow
---
Related News
---