Livestock breeders take advantage of rains in Las Tunas
Submitted by: admin

10 / 17 / 2007
---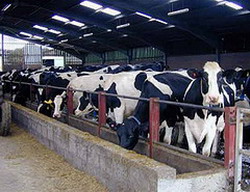 The remarkable period of rains has propitiated that the cattlemen of the Cuban eastern province of Las Tunas register a growth of 11 percent in the production of milk.

From January to September this territory, located to some 670 kilometers from Havana, obtained 16 million liters of milk, one million six-hundred thousand more than in same stage last year. The recovery of the pasture was decisive for it, together with to a bigger quantity of water for the animals.

A wire from the Cuban News Agency specifies that also the average of liters per cow increased, as well as the total of those animals that have given birth, although both indicators could have better sesults in a future.

Las Tunas is the Cuban province with the smallest historical average of rains, with only an average of 1, 038 millimeters per year, factor that worsened in the triennium 2003-2005 and caused severe damages in the agricultural productions of the territory, the piece underlines.

The livestock breeders of this province foresee to close the 2007 with some 21, 000 liters, the best result in the last years.

This food has a vital importance for Cuba, since it avoids the imports of powdered milk, a product that acquires more and more high prices in the international market.
Source: Tiempo21.cu
---
Related News
---