Rain continues in Cubas eastern provinces
Submitted by: admin

10 / 14 / 2007
---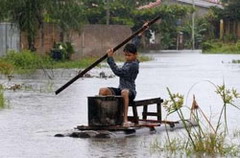 The presence of a widespread area of low pressure in the northeast region of the Caribbean Sea, together with favorable conditions at different levels within the atmosphere, is ensuring the increased probability of showers, heavy rainfall and electrical storms in the eastern region of Cuba throughout today and tonight.

According to Dr. José Rubiera, head of the Forecast Center at the Meteorological Institute, this complex synoptic situation is typical for the month of October and responds to what was previously called "a water period," that is to say the occurrence of continuous rainfall for seven to 10 days, what is occurring in the majority of provinces in eastern Cuba.

From Wednesday 10, he specified, the rain grew even heavier and reached the category of "intense", with very notable accumulations reported over a 24-hour period, such as the 306 millimeters registered in Vista Alegre, Santiago de Cuba; 265 mm in Aserradero, Guantánamo; 234 mm in Maisí; 210 mm in El Caney, Santiago de Cuba; 181 mm in Santa Cruz del Sur, Camagüey, and 179 mm, in El Paraíso, Amancio Rodríguez municipality, in Las Tunas.

According to correspondent Jorge Luis Merencio, yesterday the province of Guantánamo remained cut off from Santiago de Cuba by road because of the continuous rising levels of La Yaya reservoir, the largest in the territory. Several points in Niceto Pérez municipality are also isolated.

The National News Agency (AIN) reported the evacuation of 390 inhabitants from the Río Cauto municipality in Granma, where flooding has affected more than 1,000 homes in low-lying areas. It has also been reported that territories linking Holguín and Las Tunas are presenting a more complex situation.

Pastor Batista, correspondent for this daily in Las Tunas, has reported that because of the continual heavy rain, municipal defense councils have been activated and the transfer of residents to safer homes and facilities is underway in several areas of the province.

Las Tunas reported that the region received 117% of the normal rainfall for October in the first 10 days of the month alone. Twenty of the 30 reservoirs controlled by the National Institute of Hydraulic Resources were almost full yesterday.

Reports received at the Forecast Center of the Meteorological Institute detail that the Sagua de Tánamo and Mayarí Rivers in Holguín have burst their banks. Correspondent Alexis Rojas reported that last night the number of evacuees exceeded 2,200.

In every one of the territories affected by the intense rain, the necessary preventative measures have been adopted in order to save human lives, economic resources, equipment and facilities.
Source: By Orfilio Peláez, Periodico26.cu
---
Related News
---