Tropical activity possible in Gulf of Mexico
Submitted by: admin

10 / 02 / 2007
---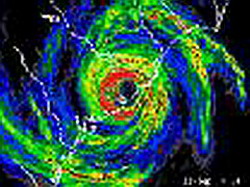 A tropical or subtropical system could develop during the next couple of days near South Florida as a low-pressure system moves west-southwest toward the Gulf of Mexico, the U.S. National Hurricane Center and other forecasters said Monday.
Weather forecaster Planalytics said tropical activity in South Florida would remain disorganized over the next 24 hours due to the combination of wind shear and little in the way of a low pressure system spinning up.
Planalytics said, however, that by late Tuesday into Wednesday, a large majority of weather models indicate the upper level low would supply enough energy to the surface and spark a storm system over western Cuba and adjacent areas of the Gulf of Mexico.
Planalytics noted the models differ on future direction of this upcoming storm, with most predicting a track across the Gulf with landfall in Texas and Louisiana by the weekend.
Another forecaster, AccuWeather, also predicted the South Florida system could develop tropical characteristics later this week and could intensify over the warm Gulf waters.
The NHC will name the next tropical storm (winds 39-73 miles per hour) Noel.
The energy market watches for tropical storms in the Gulf of Mexico because they can disrupt U.S. oil and natural gas production and refining there.
Commodities traders track tropical storms because they can damage citrus crops in Florida and such crops as cotton along the Gulf Coast
TROPICAL OR SUBTROPICAL
A subtropical storm has high winds and thunderstorms near the outer edge of the system, while a tropical storm has high winds and thunderstorms near the center.
Hence, the biggest damage caused by a tropical system is usually near the center of the storm, while in a subtropical system the biggest effect is closer to the outer edge of the storm.
KAREN AND MELISSA
The remnants of Karen extend from the Leeward Islands (Virgin Islands, Anguilla, St Martin, Saba, Antigua, Barbuda, Saint Kitts, Nevis, Montserrat and Guadeloupe) eastward for several hundred miles. The NHC said upper levels winds were unfavorable for redevelopment of this system.
The NHC also said there were no signs of redevelopment of the remnants of Tropical Depression Melissa, which was located about 825 miles west of the Cape Verde Islands and moving westward at about 10 to 15 mph.
---
Related News
---