Cuban art for the British
Submitted by: admin

10 / 01 / 2007
---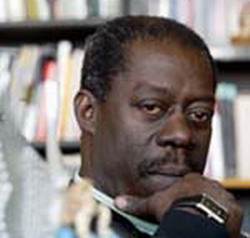 A personal exhibition by Choco, less known as Eduardo Roca Salazar, undoubtedly one of the most relevant contemporary Cuban visual artists, will be opened in The Chambers Gallery, London, in the first days of October.
As it has been made public, this Choco`s exhibition -his first personal one in England- will be a sort of "previous", because a several events on Cuban culture will be held in London in September 2008. Several artistic manifestations will be there: music, cinema, ballet and visual arts, among others.
Michael Chambers, owner of the aforementioned gallery, recently travelled to Havana and visited the Taller del Sol (Workshop of the Sun), precisely located in Sol Street , where Choco works right now. There, as curator, Mr. Chambers chose some fifty pieces, which mostly measures more than 2 meters square, being oil on canvas and mixed techniques.
According to the artist`s words: "he is happy with the chosen material", and he considered that "it will be a very interesting exhibition for the British eyes". The selected pieces has been made in the last three years, we mean, after his personal showcase " Abanico de posibilidades " ("Display of Possibilities") in the National Museum of fine Arts (2004), which became an important moment in his creative ongoing, to look again from the deepest of him, due to the maturity and firmness of the proposals.
From then to now, Choco`s work has widened and increased in size. Maybe it is due that his workshop has been enlarged, thanks to the efforts developed by the Office of the Historian of the City, and together, with that physical enlargement, his work has also "increased, concerning on topics".
"I believe "Choco tells us" I am living an excellent creative moment to keep on developing the work deserved by my people and by my country", and then he adds:: "I don`t know if in an immediate future I shall experience a change of topic, one never knows, such aspects can`t be foreseen, but the result is bron from a deep analysis of what we are and the level reached by us, as people, as nation".
Choco, a restless worker and a systematically working artist, has participated in several collective exhibitions along this year, and due to its human significance one of them had personal importance: "the one dedicated to the Five Cuban illegally imprisoned in United States jails."
He also illustrated several books and a goup of African origin stories. "That work widens one`s thought and enrich one`s work", he said. He added that before the end of this year he will travel to his hometown Santiago de Cuba , the eastern Cuban province, to participate in a religious character exhibition. "The mystic theme seems very important for me because it nurtures us as human beings and make us better persons", he concluded.
---
Related News
---