Half a century drought is over in Holguín
Submitted by: admin

09 / 25 / 2007
---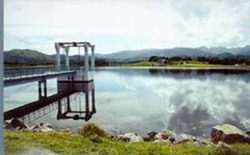 Holguín city with over 300 000 inhabitants currently has a water storage unthought of for almost ten dry years. During that period this province was perhaps the most flailed in Cuba.
By mid 2006, conditions started to change favorably and the situation has shifted dramatically having 14 of 18 existing dams over full capacity by the end of the spring season.
The Gibara reservoir, only few kilometers off the city, holds the larger supply reserve for the local population; and at the time it has reached levels never attained before. In twenty years it has never being full, but it seems that at the current rain rate, it could be for once.Since January to the date Holguin territory registers 1 086 millimeters of rainfall, that is near a 120 percent of its average rates.
So far in September the rains were not so relevant, but right now it is falling throughout the whole territory. That is good news for agriculture, cattle raising, and the very reservoirs.

There have already been some heavy rains and locally intense storms with rainsqualls and hailstorms.
Source: Al Dia.cu
---
Related News
---