ALBA Latin American integration moving forward
Submitted by: admin

09 / 24 / 2007
---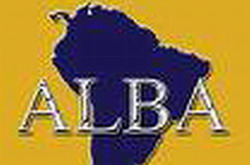 The consolidation of the progressive Latin American integration initiative "the Bolivarian Alternative for the Americas (ALBA)", and the creation of its own bank, has taken another step forward.
A Permanent Coordinator of the regional cooperation bloc, which has now been established with headquarters in Caracas, Venezuela, will have its first meeting in November, while the first stage in the creation of its bank is expected to conclude in December.
These were some of the outcomes of the second meeting of the Council of Secretaries of ALBA, which concluded yesterday in Havana as a boost to the new and forward-looking model of regional integration.
Other accomplishments at the gathering included the completion of the first phase of organizational work to create the Council of ALBA Social Movements, expected to be formally established in December; the identification of 18 priority continental projects"which will add to the 39 already adopted and functioning", and an agreement to hold the Sixth ALBA Summit in Managua, Nicaragua, on December 20.
As Felipe Pérez Roque detailed, the Coordinator will serve as a secretariat, which will ensure continuity and compliance with agreements, and will support the Summit and ALBA ministerial appointments.
By the conclusion of the meeting, characterized as "flexible and efficient," it was agreed that the Coordinator could count on the participation of a permanent coordinator from each country, with the rotation of overall coordination to occur every two years between the four current ALBA members: Cuba, Venezuela, Bolivia and Nicaragua.
In addition, the meeting approved a declaration of support for the effort to draft a new constitution in Bolivia, while rejecting all attempts to violate the territorial integrity of that nation. The group expressed its support for the efforts led by Bolivian President Evo Morales for that nation to gain control over its own natural resources and to regain its full sovereignty.
There was also a special appeal made to the international community to provide additional emergency assistance to Nicaragua, particularly that countrys Atlantic region, which was hard hit by Hurricane Félix in recent weeks.
The meeting expressed its recognition and support for the government of Venezuela to facilitate humanitarian exchanges between the FARC guerilla forces in Colombia and that countrys government, presided over by Álvaro Uribe.
In the closing ceremony, Cuban vice-president of the Council of State, Carlos Lage Dávila, recalled that ALBA was born to benefit human beings, and that this ideal could only prevail through solidarity.
Source: By Marina Menéndez, Juventud Rebelde
---
Related News
---