Poetry springs up from canvas
Submitted by: admin

09 / 19 / 2007
---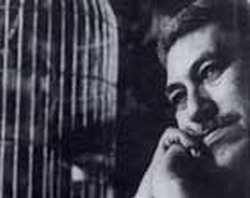 These days, the National Museum of Fine Arts presents an exhibition of the painter Pedro Pablo Oliva, whose work is considered by some people as poetry that springs up from the canvas.
With the title Historias de amor (Love stories), the show includes six paintings, 10 drawings, four ceramic wares and a bronze, made since 1980 and will remain in exhibition until the end of October.
Awarded National Prize of Fine Arts 2006, Pedro Pablo Oliva counts on a fruitful work, which contains an epoch dedicated to Jose Marti, an emblematic figure reflected in daily life actions.
Then, he painted on some other topics, also captivating for their lyricism, like that one who takes us back to childhood.
Despite his artistic greatness or pehaps due to it, he is a simple man, because modesty is a virtue that glorifies many of those who reach the stars, Oliva said once that he preferred to be defined with a more contemporary term, as a cronist of some kind of pictorial press or a plastic newscast. His controversial and astonishing images have gone beyond the boundaries of the island with a typic style that attracts the public for its charm and imagination.
In addition to his many merits as a creator, he has also carried out very important pedagogical work with several generations of artists, as well as a significant social labor in the financing of some projects like the Workshop House Pedro Pablo Oliva, Cubaneo Awards and the sponsorship of the Art Museum of Pinar del Rio.
Graduated at the National School of Art, this painter of Pinar del Rio has made successful exhibitions in Cuba and abroad, some of his works are part of important collections in Canada, France, Italy, Spain, Brazil, Switzerland, Mexico, Germany and the United States, and of course, at the National Museum of Fine Arts, in the Cuban capital.
Source: By Daynaris Campo, Guerrillero
---
Related News
---