Cuba's many elderly create greater need for resources
Submitted by: admin

09 / 17 / 2007
---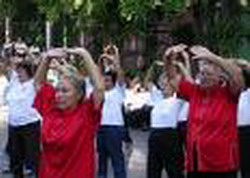 The ladies at Havana's Siervas de San Jose Home for Elderly Women laugh and chat in the sunny courtyard of the historic mansion, clapping their hands and singing when visitors arrive.

"I like to speak English, but Spanish is sweeter," said Marianne Blanco,89, a small, sprightly woman with curly white hair and a face somehow girlish despite her age.

The residential home for seniors is somewhat rare in Cuba, where families traditionally care for their aging relatives in the home. But with scarce resources and a growing elderly population, Cuba faces a challenge in coming years in caring for its seniors.

Government officials estimate that by 2025, 26 percent of Cuba's population will be 60 or older, making it one of the top countries in the world for percentage of elderly population.

"In a few years, it is almost certain that the demand for senior citizen centers, dining halls, homes and other senior citizen facilities will exceed the new factories and schools," Cuba's leading newspaper, Granma, reported last year.

It is a story not unlike those running in the U.S. press, where a huge generation of baby boomers will soon retire, raising concerns about the solvency of the Social Security system and how society will provide for the elderly.

In some ways, the challenge in Cuba is because of the communist island's claims of success in the public-health field. While its per capita income is low Cuba has managed to vault past other Third World countries by raising the life expectancy of its citizens to 77 years, on a par with the United States and ranking well among prosperous nations.

Cuban officials point to their public-health system and preventive care as explanations, although critics say the island's poor often have trouble obtaining care and medicines, and the life expectancy figures are padded by a low birth rate and high level of emigration.

A leader in Cuba's geriatric field is Dr. Eugenio Selman, who in 2003 founded the "120 Years Club," claiming that Cubans -- and other people around the world -- can live to the ripe old age of 120.

"The possibility exists," said Selman, still forceful at 77 and president of the club, which has about 5,000 members in countries around the world. "Our 2002 Census showed Cuba now has over 2,000 people who are past 100 years old."

Selman advocates a program much like that of other researchers, insisting that good diet, motivation, exercise, good health care, culture and a healthy environment are keys to long life.

At the Siervas de San Jose Home, Sister Paquita Pedrido, a Spanish Catholic nun who runs the facility, says she has been impressed by Cuba's concern for the elderly.

"Cubans often live long lives," she said. "We had one grandmother who lived to 101. I believe it is because they worked hard all their lives and they have the support of their families and the community."

The home -- which Pedrido said is aided by funds from the Cuban government-- has about two dozen full-time elderly residents who no longer have families to take care of them. Another 30 or so women come to the home each day for meals and activities, then return home to their families in the evening.

"I believe the health and education systems in Cuba are also factors in people living long lives," Pedrido said. "Families here get lots of information on preventive care, and they take a great interest in health."

Still, the challenge facing Cuba and its growing population of elderly is significant. Retired workers expect support from the state, and as their numbers increase, the burden on the government will grow.

Selman believes the state will meet the challenge of caring for the elderly, and says his experience in promoting the 120 Years Club convinces him there will be a growing global movement, too.

"We announced the formation of our club on a Friday," he said. "On Monday morning, we had 321 e-mails from people wanting to join, from as far away as Nigeria and Japan."
Source: By Mike Williams, Orlando Sentinel
---
Related News
---