Cuban Madonna, a chalcography work
Submitted by: admin

09 / 09 / 2007
---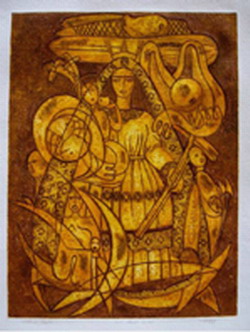 Holguin village virgin is neither creed nor legend; it is a fact that comes true in 20 engravings by local artist Orlando Carralero Gonzalez.

"Oshun and the Virgin of la Caridad are one", so states the painter, and he has chosen to present her with his impeccable imagery gift; surrounded by children, fruits, fish; at a park, with a family and in very diverse ways within his contemporary discourse without disregarding the syncretic moral values.

Why the virgin?

" I Was Born in Antilla, a small town on the northern coast, at the house of my mothers mother, who was very devoted to the la Virgen de la Caridad. According to the legend, she first appeared on a thick board floating in the waters of Nipe's bay, where the town lays. The rumors and legends grew around this fact. Eventually, I started carrying socio cultural researches; and full with legends and popular fantasy I began to work. Not as a holy image but rather as a protector of children, with love toward the family; that is the Virgin interacting with the people", Carralero explained.

In Carraleros latest work, also including frescos, ochre and yellow prevail in a wide range of chromatic mixtures. The impeccable making, the cleanliness and the good work lend a very particular seal to his work with great variety and composition richness.

Nowadays, the painter works on a new project with the same theme but this time on canvas and on a larger format, to complete the discourse bursting from his imagination on the village Virgin.

Con el Eco de mis Manos (With the Echo of my Hands) is the title of this personal exhibition soon to tour the island before being taken to Austria. It carries the poetry, the sense of being Cuban and our tradition. Surely the foreign eyes will also be caught by the Cuban Madonna, accomplished with a plastic creation verging on both the worldly and the mystical.
Source: By Adria Buzón Mejías, AlDia.cu
---
Related News
---