Cuban Medicine and a passport to happines
Submitted by: admin

08 / 30 / 2007
---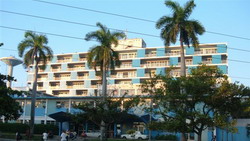 Sometimes, when she returns home after a hectic teaching day at the Medical School in the eastern Cuban province of Las Tunas, Miriam Velazquez sits on her sofa for a few minutes and wonders how she will find strength for household chores.

But if at that moment "as usually happens" her twins Carlitos and Rafael come and smother her with kisses, fatigue goes away and a smile flickers across her face. She now has more than enough reasons to wake up every morning.

Her current joy dates back to one day of special significance in her life: January 28, 2000, at Havanas William Soler Pediatric Hospital, involving Dr. Eugenio Selman-Houssein and his team of specialists from the hospitals Department of Cardiovascular Surgery or Cardiocenter.

"My twins were born on March 26, 1999, here in Las Tunas," recounts Miriam. "You can imagine what that birth meant for me and my husband, Degnis Tamayo, after 19 years of marriage without being able to have children. But something was wrong: Carlitos was born underweight and with a respiratory problem. The diagnosis of our local doctor, Roberto Rabert, was confirmed at the William Soler Hospital: the aorta and pulmonary arteries of my baby were inverted."

"Surgery was imminent. All the wisdom, skill and passion of Cuban medical science concentrated on a tiny weak body weighing barely three pounds!" said Degnis.

It was risky, but Carlitos life was more important. "They decided to place a catheter from his ingle to his heart to improve the function of the latter, while he gained some weight. He would then be in better condition to withstand the complex surgery."

TEN LONG HOURS OF STRUGGLE AGAINST DEATH

At 5:00 p.m., Miriam and Degnis felt their heads would explode at any moment. The crucial open-heart surgery on the babys miniscule thorax had begun at 8:00 a.m. Extra-corporeal ventilation guarded his life all the time. Unaware of what was going on at the operating table, the clocks tick tock in the waiting room maintained its "heart rhythm." Many questions tormented Miriam and Degnis. After 6:00 p.m., Dr. Selman-Houssein told the worried parents: "We did all we could. Now we have to wait."

PASSPORT TO HAPPINESS

"Now you know why I am happy," says Miriam with few but convincing words. The tone of her husbands voice reveals the gratitude coming from the bottom of his heart.

The rigorous and continuous monitoring of the baby after surgery, the ambulance at the disposal of these parents to travel to far-away Havana for consultation, state-of-the art technology "everything done just with the smile of a drivers son in mind. Healthcare in Cuba is free of charge.

Today, Carlitos is smaller than Rafaelito, but no less capable. He lives a normal life, except that he now has two families to look after him "his and that of the Cardiocenter.

For Miriam and Degnis, the joy of waking up every morning to dress their little ones, feed them, educate them, and see their twins grow up healthy and happy is something normal, but, at the same time, priceless.
Source: By Pastor Batista Valdés, Granma
---
Related News
---