Health Care Programs in Camagüey show good signs of stability
Submitted by: admin

08 / 13 / 2007
---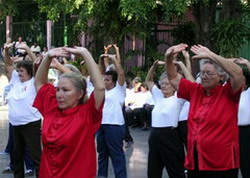 A group of top priority Health Care programs have progressively settled in this province. Programs such as Mother and Child Health Care show figures of 4.6 dead infants regarding every thousand children born alive; by the end of 2006, the province achieved the better results of all times, 4.3, rated second in the country and way below the national average.

Juan Rodríguez, Health Care Vice-Director in the territory, referred to the rate of dead children. It is lower than seven, the expected rate in the country. Last year it reached 6.9 and after seven month of the present 2007, the average is only 5.2.

So far, there are no mother deaths reported and the low-weight children standard is 4.2 meanwhile last year it ended with a 4.9 total.

Mortality, generally speaking, is decreasing regarding all ages, especially in the cases of death related to brain and heart diseases since tumors have become the first cause of death. The optical services, though recording a high amount of 38 322 cases, are far from covering the real demand.

Fifteen per cent of Camagüey's population surpasses the age of 60, that is the reason why is so important to have a program intended not only to increase life expectancy but also to enhance elder people life quality. Ninety four per cent of lonely old people enjoy community care.

The province has open 20 shelters with 715 capacities, and five more are expected to be inaugurated soon, with the goal to protect and guide old people in this time of their life. Besides, there are thirteen asylums totaling 1 109 beds.

About 46.5 per cent of aged people are members of clubs in which they exercise, keep their abilities and perform recreational walks. Life expectancy in the province reaches 77.14 years, 79.01 for women and 75.44 for men.

Dental care keeps a relationship of one visit to the clinic regarding 1.5 inhabitants and it is considered that dental goods supply is the best of the last fifteen years.

Major surgery is progressively recovering though surgery room repairs at Manuel Ascunce Domenech School Hospital will not be finished until next September.

Vaccination program has been successfully implemented, covering a total of 13 diseases so far.

People with mental disorders and addictions, no matter how serious, are fully taken care by specialists in the Community Mental Care Centers located in the Camagüey City four districts and in every municipality. The main goal is to try to insert them back in their community as useful components once recovered.

Health Care workers has not stopped for a single moment their labor in the province, not even considering the 2 576 collaborators abroad, 1 700 of them are doctors, located in 49 countries. It is an undeniable sample of love and altruism before the ultimate human and humble task ever faced.
Source: Adelante
---
Related News
---