Jose Fernandez Milera: an expert on Cuba Mollusks
Submitted by: admin

08 / 08 / 2007
---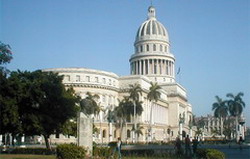 «If youre interested in biology, start to prepare today. Study it in the morning; study it in the afternoon and at night dream of it. » With these words and a crafty smile he said goodbye to me at his door after we talked for the first time.
Then I went to ask him about Cuban mollusks, a topic on which he is one of the top experts in Cuba. Now, when he is about to retire, after more than 50 years devoted to researching nature, I came back to listen to his words of knowledge. We spoke for only 25 minutes, but it was enough for him to demonstrate for me, from the exact places in his memory, the axioms and anguishes of a man of science.
Professor Jose Fernandez Milera "the self-taught studier of mollusks (malacologist), the judge in fishing tournaments, the founder of fishing cooperatives in the first years of the Revolution, the ex-director of the National Aquarium, the always available consultant, the tireless poetry reader" Milera, as everybody knows him, makes an effort to see daily life from another point of view.
He donated his collection of 35,000 mollusk shells to the Institute of Ecology of the Cuban Academy of Science. For us, he donated the exact keys to decode the wonder of life.
«First, one feels the aesthetic impulse of the attraction to beauty. The fact of living my early years in Cardenas and Varadero put me in contact with fish, mollusks, crustaceans, all of the water animals that are in Cuba in abundance. When I was eight, I started my mollusk collection. Later the aesthetic interest turned into scientific love. From that moment on, Ive continued my work, without interruptions or fatigue. »
"When did you start to read biology books?
"When I started collecting specimens. At that age I started my visits to the library of the Oscar Maria de Rojas Museum in Cardenas. The library had 18,000 books about all the subjects of human culture. There I read about zoology, ornithology (birds), malacology (mollusks), history, poetry, criticism, etc. I looked over the shelves, gathering books and trying to memorize them. After I graduated with a Senior Secondary Degree in Science, I could not go to collage, so I decided to study on my own.
"What did you do after the triumph of the Revolution?
"I was a specialist in the museum of Cardenas. On March 3, 1959, I met Commander Andres Gonzalez Lines; we talked about the riches of the sea, and he told me: «Come to the Army Navy headquarters tomorrow (it was located in Old Havana); I want to continue talking with you. » I went there, we talked again, and I never came back to my town. From there I went to the eastern provinces to organize the docks and to establish fishing cooperatives. Those were objectives of the Revolution.
"Later you met President Fidel Castro...
"Well, I talked with Fidel on the Acuarama yacht, to the south of Cayo Largo del Sur. We talked for 18 straight hours about fishing. When we say goodbye, he told me: «There are two ships for exploratory fishing we bought from Poland. Take care of them and keep me posted about your work. »
«On those ships I made five trips experimenting and training of captains and sailors. On the fifth trip we collected over a thousand tons fish. Then I moved on to another task, I delivered the ships to the captains I had trained».
"You managed the National Aquarium of Cuba. How do you remember your work there?
"That was a good part of my life, from April 1965 to December 1973. There my love for the sea increased, as did my studies of it. Its something extraordinary. I even told my friends at one point that I would like my body to be tossed into the ocean when I die (laughs). About the aquarium... let me tell you this, when I arrived there I found 36 fish tanks, but when we turned over the management there were 94. We tripled the area. A similar thing occurred with the number of visitors.
"What image do you guard of the early years of the Institute of Ecology?
"At that moment it was called the Biology Institute of the Science Academy; then, the Zoology Institute, and later on the Institute of Ecology and Systematics (IES). I was appointed specifically to study mollusks. Then, I extended my operational range to fish. The centers collections are its most extraordinary features; they are of great value and that have to be used as references in any scientific study.
"Would you dare to say the exact number of specimens of those collections?
"The one of mollusks, for which I am the responsible organizer, has 750,000 specimens. The collection of birds has 3,200; the one of insects has 80,000 and there are some 16,000 mammals. But, well, those are other peoples studies; Im in charge of the fish and mollusks. Imagine - Ive spent 38 years at IES.
"And many years devoted to describing mollusks...
"Now we are talking about mollusks, with the most beautifully colored shells in the world. More than 400 varieties of chromatic shades are known, and were still counting. There are six endemic species from the eastern region of Cuba. And they are the most attractive snails of the world.
"After so much reading, what are your essential biology books?
"The Magazine of Carlos de la Torre Malacological Society, the memories of the Cuban Society of Natural History by Felipe Poey and the books by Miguel Jaume, Carlos de la Torre, and Carlos Guillermo Aguayo, who were renowned naturalists.
"How would you define your work method?
"Handling the collection and the literature everyday, because theres lots of materials and if you become overconfident, your memory betrays you. Then, one has to constantly add information and scientific clarity to their mind...
"What do you consider is the best quality of a person of science?
"A combination of indestructible love. Let me see if I can remember the phrase by Jose Martis " Loving is nothing more than the way to grow.
"What has Marti contributed to your research?
"My parents were fervent Marti followers, even though they hadnt read his books. They sew that seed in me. I love his collection of letters. Marti has made infinite contributions to me regarding character, love for life and nature.
"The "Master" (Jose Marti) said that he found poetry in books of science. Do you find science in the poetry books you collect?
"Also.
"What is your favorite poem?
"Sinfonia en gris mayor (Symphony in gray major), by Ruben Dario. The poet defines the character of the tropics in a few words.
"Would you recite a fragment?
"Sure: while the suns disc / like something injured crawls / slowly to the top / and the wind that blows / off the swells / dozes / in a trough, / its bugle a pillow. (...) A screen / of tobacco smoke / lifts, as did the fog / off the coast / that blazing noon / he set sail...
Source: By Jesús Arencibia Lorenzo, Juventud Rebelde.
---
Related News
---