The Friendshipment Caravan program brings medical supplies, solidarity to Cuba
Submitted by: admin

07 / 02 / 2007
---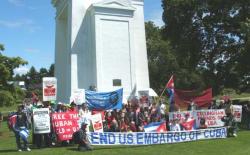 The Friendshipment Caravan program " in its 18th year " will make more than 120 stops throughout the U.S. and Canada collecting medical supplies and journals before the goods are flown to Havana from Tampico, Mexico.

Many people don't understand the shortages the U.S. embargo on Cuba has created, said Mark Koenig, director of Providence Health International. Koenig's organization collects medical supplies in Lacey for distribution, and has done so for years.
"What I experienced was very well-trained people very committed to helping people and not being able to get what they needed to do it," Koenig said.
Lucia Bruno is communications director for the Interreligious Foundation for Community Organization, of which Pastors for Peace " which is sponsoring the caravan " is a special ministry. She said people donate everything from bicycles to hospital machines, walkers and medicine " about 60 tons worth in 2006.
Between one and 300 people join the caravan each year, she said.
Tom Warner, secretary of the Seattle/Cuba Friendship Committee, said the caravan isn't just charity: It's to protest the U.S. embargo against Cuba. People as old as 90 and as young as 16 participated in these things," Warner said.
One of 14 buses carrying "friendshipments" to Cuba is slated to depart from Seattle today. Seattle's Friendshipment bus leaves at 6 p.m. Monday from El Centro de la Raza, 2524 16th Ave. S.
---
Related News
---