China to amend law to reduce energy consumption
Submitted by: admin

06 / 25 / 2007
---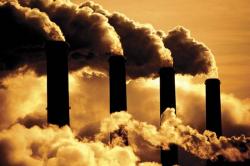 Under heavy pressure to cut energy consumption, China is now turning the spotlight on to construction projects, the transportation sector and government buildings.
China's top legislature on Sunday began deliberating a draft amendment to the Law on Conserving Energy, which details measures to avoid energy waste in the three areas to improve energy efficiency and cut pollution emissions.
Under a five-year plan to 2010, China pledged to cut energy consumption per unit of gross domestic product (GDP) by 20 percent, or four percent each year. But, the consumption actually fell by just 1.23 percent last year.
"Achieving the target is highly problematic. Energy consumption in some areas and industries just keeps rising," Fu Zhihuan, chairman of the Financial and Economic Committee of the National People's Congress (NPC), told lawmakers in a report.
Fu said energy consumption in these three areas has been rising rapidly. He said they had not been given enough attention and were the "weak link" in China's energy-saving campaign.
Official statistics show that construction accounted for 27.5 percent of China's total energy consumption in 2005, transportation 16.3 percent and government buildings 6.7 percent.
The draft, tabled to lawmakers for a first reading, says that construction project must reach obligatory energy-saving standards and buildings and plants already built will be subject to regular inspection by building authorities.
It also says Chinese cities will gradually replace antiquated central heating with modern household heating systems that can be individually regulated.
Other energy-saving measures include strict control of the indoor temperature of public buildings and restrictions on decorative lighting for large buildings.
China has built 1.06 billion square meters of energy efficient buildings, but the figure represents only 7 percent of the total floor space of existing buildings in urban China, statistics from the Ministry of Construction show.
According to a survey by the ministry in 30 regions, the four municipalities of Beijing, Shanghai, Tianjin and Chongqing are doing relatively well in implementing energy saving codes, but other regions are a long way behind in technological standards and government supervision.
The draft, which almost doubles the articles of the original law, also requires governments at all levels to increase investment in public transport, improve services and encourage the public to use public transport.
China, once known as the kingdom of bicycles, has overtaken Japan to become the world's second largest auto market after the United States with Chinese people's love for private vehicles showing no sign of abating. The number of privately owned motor vehicles rose 18.8 percent year-on-year to 22 million in China in 2006.
The draft says that the Chinese government encourages the development, production, selling and use of environmental-friendly vehicles and new types of automobile propelled by new clean fuel, in an effort to save energy and cut emissions.
The draft also requires governments at all levels to make energy-saving plans for their office buildings and make the details public.
It bans government from purchasing high energy-consuming equipment, saying that energy-saving products should be the priority in government procurement.
The State Council, or the cabinet, in early June issued a circular, ordering that the temperature of all air-conditioned public rooms in China should be kept at no lower than 26 degrees Celsius.
All government agencies, associations, groups, companies and private owners in public buildings should strictly comply with this rule, according to the circular.
The draft also highlighted energy efficiency in the industrial sector, saying that China will continue to push forward industrial restructuring and technical innovation to gradually weed out outdated production methods.
The six high energy-consuming and highly polluting industries -- electricity, steel, nonferrous metals, construction materials, oil processing and chemicals -- which account for nearly 70 percent of energy consumption and sulfur dioxide discharges of the entire industrial sector, grew by 20.6 percent in the first quarter of 2007, 6.6 percentage points higher than the same period a year earlier.
The government will issue preferential policies in financial investment, taxation, price, credit and government procurement to encourage energy-saving, according to the draft.
The Chinese government has announced a series of measures to cut energy consumption this year in order to meet strict energy efficiency and pollutant reduction targets, which it failed last year.
The State Council has set up a leading group head by Premier Wen Jiabao to oversee the national efforts for energy efficiency and discharge reduction.
Experts believe that by sharpening rules and punishments in the nine-year-old law, China will be able to achieve the widely publicized targets by 2010 and move in the direction of sustainable development.
"If China fails to significantly reduce energy consumption this year, it will be almost impossible for the country to reach the goal by 2010," said Dai Yande, deputy director of the energy institution under the NDRC.
"The draft amendment, which come at a critical moment, will provide a strong legal basis for China to further intensify its energy-saving campaign," Dai said.
Editor: Sun Yunlong
---
Related News
---