Book of Guantanamo verse to be published
Submitted by: admin

06 / 25 / 2007
---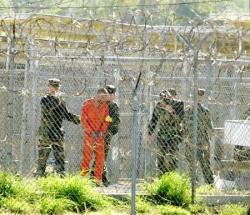 A collection of poetry written by Guantanamo detainees will be published this summer. The prisoners, denied pens and paper, wrote some of the poems by scratching verses onto foam cups with pebbles. Other poems were translated into English by linguists with security clearances but no literary credentials.
"It was a long and draining project," said Marc Falkoff, a law professor and former literature professor who represents 18 detainees. The University of Iowa Press will release "Poems From Guantanamo: The Detainees Speak" on Aug. 15. It features 22 poems by 17 detainees. About a dozen lawyers submitted more than 40 prisoner poems, which had to run a gauntlet of government censors.
Officials cleared roughly 30 of them, most only in English rather than their original Arabic and Pashto. Some of the approved poems were held from the book at the request of prisoners, often out of fear it would hurt their cases, Falkoff said.
---
Related News
---