Obama tells S.A. crowd he wants Guantanamo closed
Submitted by: admin

06 / 25 / 2007
---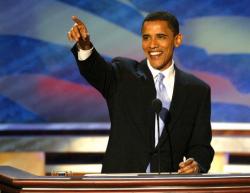 SAN ANTONIO " Democrat Barack Obama told a Texas crowd today that he wants the Guantanamo Bay detainee facility closed " a step the Bush administration is considering " and wants to "restore habeas corpus" rights.
Speaking about goals to work "side-by-side" with the world community on topics like nuclear proliferation, poverty, economic development in Latin America and the violence in Darfur, the presidential hopeful added: "While we're at it, we're going to close Guantanamo. And we're going to restore habeas corpus. ... We're going to lead by example " by not just word but by deed. That's our vision for the future."
Habeas corpus is a tenet of the Constitution that protects people from unlawful imprisonment.
The White House said on Friday that President Bush has made closing the prison in Cuba a priority and that Bush's top aides are in active discussions about closing Guantanamo.
Obama, his white shirt sleeves rolled up, spoke for roughly 30 minutes in the muggy heat to a crowd his campaign estimated at about 1,000 people. Tickets to the event were $25 each. It was the first-term Illinois senator's first visit to San Antonio since declaring that he would run for president.
Saying President Bush's administration tells those who don't have access to medical care and good schools, "Tough luck, you're on your own," Obama laid out his plans to reform the health care and education systems and the nation's energy policy.
"Of course it's going to be hard to do these things so long as we continue the senseless war in Iraq," he said.
Obama said "there's one thing that we can still get right in this war," which is to commit to treating troops returning to the U.S.
"When our young men and women have served this country, I don't care if you were for the war or against the war, but they have served our country. They have done every single thing that we have asked of them, with bravery and valor, they should not have to beg when they come home to get the services they need," Obama said.
The San Antonio area is home to several military installations, including Fort Sam Houston and its Brooke Army Medical Center, where many soldiers are sent for treatment.
Many in the crowd Sunday wore blue "AlamObama" T-shirts playing off San Antonio's famous landmark, the Alamo. Some said they are already on board with Obama, while others aren't committed to a candidate yet and came to the event to find out more.
"I like what he's saying about change," said Irvin Miller, 47. "This country, we need a massive change."
Obama's stop in Texas also included two fundraisers " one each in San Antonio and Houston " and meetings with religious and community leaders, his campaign said.
---
Related News
---