Young cuban fourth in mental calculus olympiad
Submitted by: admin

11 / 08 / 2006
---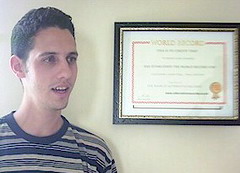 JOEL MAYOR LORAN
Yusnier Viera, the young Cuban from Havana who recently achieved two Guinness records for mental calculus, was placed fourth at the 2nd World Olympiad of that modality, which took place at the Mathematics Museum of Giessen, Germany.
YUSNIER VIERA, THE YOUNG CUBAN PLACED FOURTH IN THE 2ND WORLD OLYMPIAD OF MENTAL CALCULUS
The graduate in Computer Sciences and Professor of the University of Havana placed fourth in the competition that was won by British participant Robert Fountain, who retained the title he HA won at the first Olympiads. The second place winner was Dutch participant Jan van Koningsveld, while third place went to Gert Mittring. According to a news dispatch by the German DPA press agency, a total of 26 gifted young people from 13 nations took part in the competition.
Viera, who is 24 years old, was placed second in the competition to find a specific date in time, took third place in the so-called "surprises" test, and was the fifth in the multiplying competition. In the mental calculus of square roots he was ninth, and in the addition challenge he was fourteenth. For all these mental calculus tests, the participants were only allowed to write down the results on paper.
One of the tests consisted of adding ten numbers of ten digits each in ten minutes. Another test was finding the square roots of ten numbers of six digits each in fifteen minutes, and going to a precision of five digits after the decimal point. In the same 15 minutes time slot they had to multiply two eight digit numbers ten times.
They also had to find out in just one minute the day of the week in the maximum possible number od dates of the calendar between the years 1600 and 2000.
Spanish participant Alberto Coto, who won the multiplying contest, praised the Cuban , who he described as very versatile. Meanwhile Viera said that he was very happy, that he didn't expect to place so high, because he knew that the competition was going to be very tough, and he stated his will to continue training.
On the 31st of October of 2005, the Cuban cybernetics professor, born in Bejucal, broke two world records previously held by Matthias Kesselschlager of Germany, when he was able to calculate the days of the week of 20 dates of a whole century in just 19.8 seconds, and then identify 42 dates between the years 1600 and 2000 in just one minute.
Source: Granma
---
Related News
---