Workers of the Thermoelectric of Nuevitas work in the preservation of the environment
Submitted by: admin

06 / 10 / 2007
---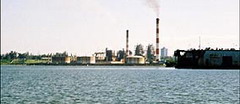 In this riverside city, the collective of workers of the Thermoelectric "October 10th" work in a strong movement to preserve the environment.

The thematic, present during the whole year, is intensified at times of the World Environment Day, with a special day from June 1rt to 8th.

Conferences about the care of the environment on the part of the entity, debates of movies related with the environment and competitions in poetry, narration and story that deal with the thematic, are included in the calendar dedicated to take care of the nature.

The workers of the thermoelectric "October 10th", of Nuevitas, who continue working to preserve the life in the planet, close today the day with the awards ceremony of the competitions in an special morning, in occasion of the World Environment Day, celebrated each June 5th.

This entity, located in the territory to the north of Camagüey, worked carefully in an investigation process and setting in practice of measures that avoid the contamination of the bay and the environment of Nuevitas.
Source By Silverio Pascual, Radio Nuevitas
---
Related News
---