Womens Chess Tournament in Holguin, Cuba
---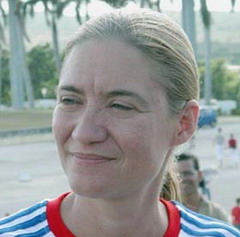 By Alexis Rojas Aguilera
After five rounds of competition, the 14 women playing in the National Female Chess Championships resume action on Wednesday in the eastern Cuban province of Holguin.
In the last day of play on Monday, GM Vivian Roman, GM Maritza Arribas and MI Yaniet Marrero were tied for the lead at five points each. The tournament concludes on February 19.
Tied for fourth are Masters Oleinny Linares and Lisandra Llaudy with 4.5 followed by GM Suleinnis Pina and MF Zenia Corrales with 4 each. MI Zurka Frometa and MI Yuleikis Fleites are at 3 points; MF Jennifer Perez and MI Lisandro Ordaz at 2.5; Yanira Vigoa and MF Yerisbel Miranda at 2; MI Asela de Armas has 1.5 out of a possible 7 points.
The first seven rounds had many highlights including the excellent play of Llaudy and the loss of Suleinnis (todays top Cuban female chess player with a ELO 2,333) on Monday in 42 moves on a Petrov Defense to Oleinny Linares.
Source: Granma
---
Related News
---