Wide open gate to guitar orchestras
Submitted by: admin

01 / 16 / 2007
---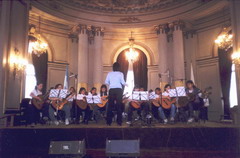 By Pastor Batista Valdés
The idea of releasing the 1st Festival of Guitar Orchestras in the eastern province of Las Tunas this year credits the collective effort excelled in the territory for developing art formation.
Details about this first musical gathering coming in May were made known in the annual meeting of the local Culture sector presided over by its Vice-Ministry Rubén del Valle.
Sonantas Habaneras bands of the capital city directed by Maestro Jesús Ortega and his counterparts from Guantánamo, Holguín, Camagüey, Sancti Spíritus, Cienfuegos and the host city of Las Tunas should be a landmark onstage.
Orchestra Isaac Nicola of Las Tunas, the second one founded in the island and despite the youth of its musicians, whose ages average 17, ranks high due to its distinguished work under the direction of Ramón Carlos Leyva Pérez, a young graduate of the Vocational Art School El Cucalambé.
Source: CubaSi
---
Related News
---