Voices from Lethbridge
Submitted by: admin

05 / 10 / 2007
---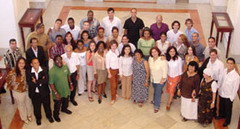 Some years ago, during a world short movie convention, the Canadian Professor George Evelyn had found in Exaudi a particular distinction when facing the singing.
"You should understand that I have fulfilled a dream: to share a concert with the singers directed by María Felicia Pérez in their country," declared the famous director this past weekend when he finished a moving evening in the Hispanic-American Culture Center, in Havana, where he performed in front of the choir of the University of Lethbridge.
The first performance of the evening was in charge of the female choir from the Instituto Superior de Arte (Superior Art Institute), a group which has gone beyond the frames of an academic exercise in the interpretation of the English renaissance pieces and Una rosa de Francia (A rose from France), by Rodrigo Prats.
Then Exaudi was installed again and it placed its rhythm in the subtle management of the dynamic in the emission, as if each melody had the property of being drawn in mid-air. That contrast between the intense and the fragile filled the images of the Venezuelan folklore, the Tres andaluzas (The Three Andalusian), from the Spanish composer Manuel Oltra on the poems by García Lorca, and the Cuban sons from Juan Almeida and Moisés Simmons.
The singers from the University of Lethbridge performed for their Cuban colleagues a brief but demanding program, which was on the challenges which have traditionally been put forward by Professor Evelyn along his career.
They came to the Island thanks to the exchange project lead by the Cuba-Canada Sports and Culture festivals organization. These young students from the higher educational center of the province went through the difficult scores of the versions of Mario Castelnuovo Tedesco about the Romancero gitano (Gypsy Romance book) by Lorca, and they entertained the public with pieces of Canadian folklore.
The great surprise was the wonderful and faithful interpretation of El guayaboso, by Guido López Gavilán, a setting for which they had a few months ago the help of Professor Alina Orraca.
Source: Cubarte
---
Related News
---